Alex de la Iglesia presents SHREW'S NEST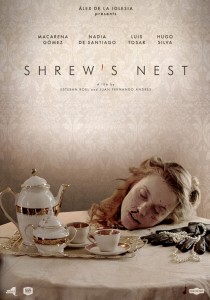 Alex de la Igleisa is presenting the feature debut from  Juanfer Andrés and Esteban Roel, SHREW'S NEST (Musarañas). Starring Nadia de Santiago, WITCHING's Macarena Gomez, Carolina Bang and Hugo de Silva, as well as SLEEP TIGHT's Luis Tosar, the '50s-set psychothriller about manipulation, obsession and separation anxiety between two sisters now has an international, subtitled trailer.
Full synopsis:
Spain, the 1950s. Montse is no longer a young woman. She lost the blush of youth caring for her little sister, holed up in a sinister apartment in downtown Madrid.
Their mother died giving birth to the little one and their father couldn't handle it. He fled like a coward and left the girls alone. Forced to be father, mother and big sister, Montse hid away from life inside those four walls, feeding her obsessive and unbalanced temperament. She suffers from agoraphobia and cannot take a single step outside the house. Not understanding what is happening to her and the suffering that this strange disease causes her makes her take shelter within a world of Our Fathers and Holy Marys.
Montse works as a seamstress and her only link to reality is her sister, a girl who will soon no longer be a girl. One day, the chain is broken when Carlos (HUGO SILVA), an irresponsible young neighbor, is misfortunate enough to stumble down the stairwell and looks for help at the only door he was able to drag himself to.
Montse takes him in.
Someone has entered the shrew's nest.
…Perhaps he'll never leave
The directors describe their creation:
With our first feature, Shrews' Nest, we're looking to strike a balance between our two favorite types of movies. On the one hand, genre films — and more specifically, horror, one of the genres that has taken up the most viewing hours of our lives. But there is also the genre that we call "films for actors". Those films that are held aloft by the pillars of solid characters that let the cast shine.
There are many films that fulfill both these parameters and have been key for us. From The Beguiled by Don Siegel to Misery by Rob Reiner, along with Stanley Kubrick's The Shining and Juanma Bajo Ulloa's Butterfly Wings, Roman Polanski's Repulsion and Alfred Hitchcock's Rebecca. Films that are each very different from the other, but all of which exist at a midpoint between drama and horror.
And that is Shrews' Nest, a drama of horror in which we explore one of the most terrifying situations imaginable: that of a monster living with you, who is part of your family, who shares your life. Someone who you cannot easily free yourself from because, despite it all, you love them.