COMING SOON: Summer Camp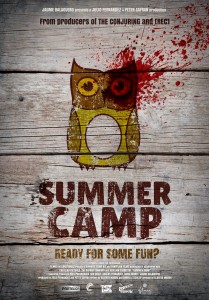 Jaume Balaguero presents the directorial debut of SLEEP TIGHT's writer: Alberto Marini
Summer Camp starts when Darren, Michelle, Will and Christy signed up to work as camp counselors, they had visions of a fun-filled summer in an exciting foreign country. During their last hours of "freedom" before the camp opens its doors, the young counselors are determined to have a night they´ll never forget ?and they won´t be
disappointed… Before the party´s even gotten underway, things get ugly, very ugly… A silent infection spreads, a friend snaps without prior notice. A savage game of cat and mouse ensues, it´s unclear who is afflicted and who is not, and the pursuer can become the pursued in the blink of an eye: Welcome to Summer Camp.
According to the director: It´s not the first time a genre film has been set in a summer camp. The setting, the isolation, putting a load of strangers together in one place… all these things are great ingredients for a horror film. With Summer Camp, we wanted to bring new life to the concept, by playing around with the conventions of the genre, surprising and terrifying the viewer with the unexpected.
There´s a game common to the majority of kids around the world, both in and out of summer camps: "Tag you are it", "Ce l´hai", "Pilla pilla", "fangermandl", "chat",…. The fun of the game is that the roles are constantly changing. The pursuer becomes the pursued, the cat becomes the mouse.We wanted to capture this idea in a horror-filled, adrenaline-pumped movie. Where the characters barely have time to catch their breath and are shown no mercy. A film in which you´re never sure who your friends or who your enemies are, a game you´d never wish to be part of and where, sometimes, in order to escape the only option is to attack.
During the twelve years that Alberto Marini worked for Filmax, he had the opportunity to collaborate with great directors such as Jaume Balagueró, Daniel Monzón, Paco Plaza, Nacho Cerdá and Brian Yuzna, in his role as development executive and later Head of Development. In 2009 he took up the role of Head of Production at Filmax and went on to work as executive producer on [REC] and [REC]2, co-directed by Balagueró and Plaza, [REC]3 GENESIS by Paco Plaza and THE WAY, by Emilio Estévez. His most acclaimed script to date, SLEEP TIGHT, was taken to the big screen by Jaume Balagueró in 2011. After the success of SLEEP TIGHT, Alberto Marini decided to go it alone, and in 2011 he set up his own production company, REBELION TERRESTRE FILM, whose first project is THE LAST DAYS, from directors Alex and David Pastor (CARRIERS). Alberto Marini and Jaume Balagueró´s mutual admiration and close friendship is fruit of the many projects they have worked on together (DARKNESS, FRAGILE, TO LET, [REC], [REC]2 and SLEEP TIGHT). Jaume Balagueró has put his support fully behind Marini´s directorial debut and will act as Executie Producer on SUMMER CAMP.