FANGORIA #336's cover and contents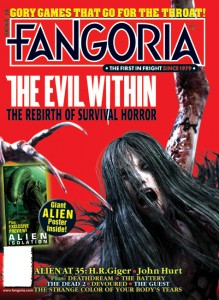 GUTS
INTERVIEW: RICHARD BACKUS His starring turn in Bob Clark's anti-war chiller made "Deathdream" believers out of everyone.
PREVIEW: "THE DEAD 2" Howard J. and Jon Ford hopped continents to shoot another culturally specific zombie opus.
NOTES FROM THE UNDERGROUND: "THE BATTERY" Jeremy Gardner proves less can be more even when it comes to the undead.
PREVIEW: "DEVOURED" If you're into deeply disturbing psychological journeys, you'll eat up Greg Olliver's New York indie.
INTERVIEW: MICHAEL MARSHALL SMITH The BBC's "Intruders" gives ongoing televised life to the author's creation.
ON SET: "MURDERDROME" Australian roller derby becomes a lot more brutal in Daniel Armstrong's ode to bad girls.
FEATURE: "THE STRANGE COLOR OF YOUR BODY'S TEARS" Bruno Forzani talks his and Hélène Cattet's surreal follow-up to "Amer."
PREVIEW: "THE GUEST" There's just one violent visitor in the latest from the "You're Next" duo, but he does plenty of damage.
INTERVIEW: JOHN HURT In 1979, everyone heard him scream as he played host to the "Alien" in Ridley Scott's classic.
FEATURE: THE NEW SURVIVAL HORRORS "The Evil Within" and "Alien: Isolation" bid to bring true terror back to video-gaming. Plus: The best survival-horror titles past.
TRIBUTE: H.R. GIGER Looking back at the life of the artist who merged flesh and steel, the beautiful and the grotesque.
INTERVIEW: JOHN FASANO Why the Chinese vampires in his low-budget "The Jitters" couldn't jump as high as hoped.
INTERVIEW: BRENDAN FLETCHER One of Canadian horror's most familiar faces goes on another "Rampage" for Uwe Boll.
INTERVIEW: CHAD ARCHIBALD As part of Black Fawn Films, he finds evil in the water, on-line and in other common places.
INTERVIEW: BILL LEEB Formerly of Skinny Puppy, he's exploring strange new sonic worlds with Front Line Assembly.
INTERVIEW: GRAHAM BAKER The director's first hurrah in feature films was Damien Thorn's last, "The Final Conflict."
DIARY OF THE DEB: "MODEL HUNGER," PART TWO All started swimmingly on Debbie's directorial debut, and then…
MINIFEATURE: IAN ROGERS The author's "House" is due for reassessment as a television project.
GRAVY
FIRST RITES For love of the games
POSTAL ZONE Column inches
MONSTER INVASION "The Possession of Michael King" and "Honeymoon"
THE VIDEO EYE OF DR. CYCLOPS Reviews of "Phantom of the Paradise," "Prom Night," "The Innocents," "The Sacrament," "Stagefright" and others