FANGORIA #342: Contents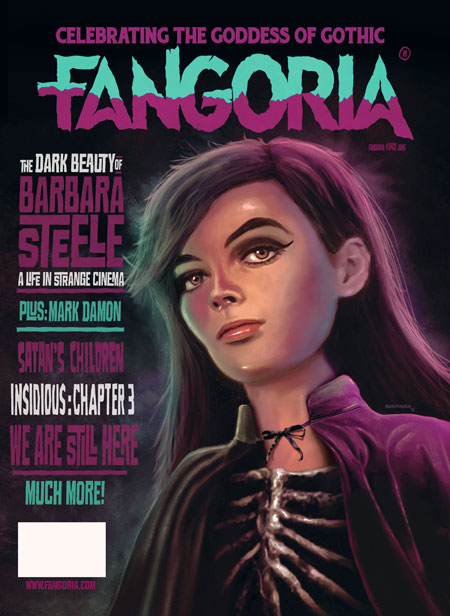 ç
GUTS
RETROSPECTIVE: "SATAN'S CHILDREN," PART ONE Devilish cultists and other deviants run wild in this bizarre '70s outing.
PREVIEW: "L.A. SLASHER" We're all sick of reality-TV stars, but one guy actually does something about them.
PREVIEW: "INSIDIOUS: CHAPTER 3" The prequel takes franchise mainstay Lin Shaye on Further frightful adventures in the past.
INTERVIEW: OLIVER ROBINS As a young actor, he faced childhood terrors come to life in the original "Poltergeist."
ON SET: "WE ARE STILL HERE" Writer/director Ted Geoghegan introduces you to ghosts that are burning for living souls.
PREVIEW: "THE NIGHTMARE" The real-life terrors of sleep paralysis are explored and recreated by Rodney ("Room 237") Ascher.
NOTES FROM THE UNDERGROUND: "BORLEY RECTORY" A true UK haunting inspired the Ashley Thorpe project that would not die.
INTERVIEW: DICK AND LAINIE MILLER Horror's familiar face teamed with his producer wife for a new documentary. Plus: Miller's greatest hits.
INTERVIEW/APPRECIATION: BARBARA STEELE A look back at the fascinating actress' unique and unforgettable career, with words from the icon herself!
FEATURE: "LOST RIVER" Ryan Gosling's surreal feature has a shadowy realm for Steele to inhabit.
INTERVIEW: MARK DAMON Acting opposite Steele, Vincent Price and others, he also became a force behind the scenes.
MINIFEATURE: "CIRCUS OF THE DEAD" Billy Pon delivers the goriest gang of face-painted freaks yet.
PREVIEW: "DER SAMURAI" Looking for cutting-edge Eurohorror? Try Till Kleinert's twisted transvestite tale.
PREVIEW: "BURYING THE EX" Undying love has a hunger for blood in the latest comic chiller by Joe Dante.
INTERVIEW: JOAN VAN ARK Cast in a '70s nature-amok flick, she was happy to spend more time with Sam Elliott than with "Frogs."
INTERVIEW: BRAD DOURIF The Fango fave is an especially "Malignant" presence as he indulges in mad science.
GRAVY
FIRST RITES Barbara Steele: a feast for the eyes
POSTAL ZONE Readers reveal their treasure troves
MONSTER INVASION Hominid horror in "Throwback"
THE VIDEO EYE OF DR. CYCLOPS Reviews of "The Strange Case of Dr. Jekyll and Miss Osbourne," Jess Franco's "Vampyros Lesbos" and "She Killed in Ecstasy" and more
NIGHTMARE LIBRARY Reviews of M. Jess Peacock's "Such a Dark Thing" and Derek Botelho's "The Argento Syndrome"
DUMP BIN DIARIES Universal's " 'Tremors' Attack Pack"