Video Watchdog #178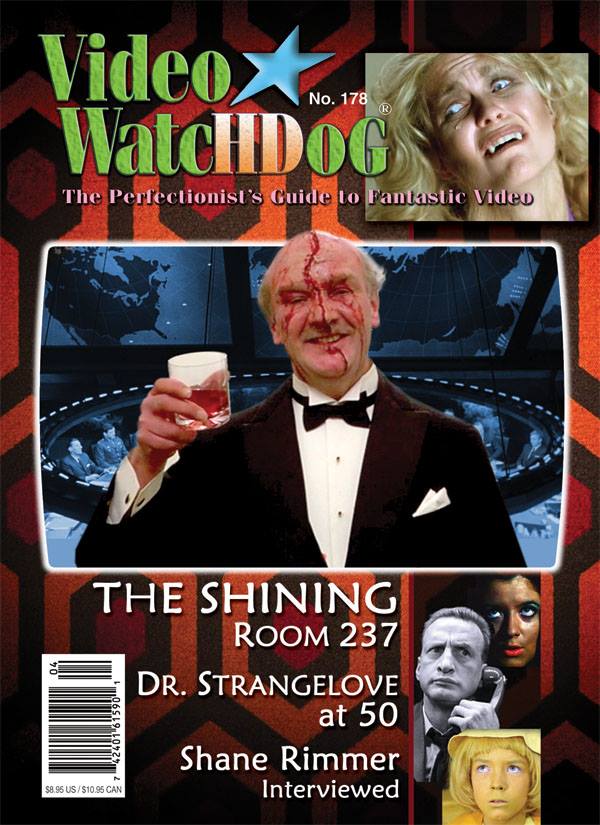 PURCHASING AND MORE INFO: http://videowatchdog.com/home/HTM/178.html
DR. STRANGELOVE at 50
Mark F. Berry examines the continuing appeal
of Stanley Kubrick's Cold War comedy.
THE VW INTERVIEW
In Which We Meet Again with
STRANGELOVE Co-pilot Shane Rimmer
Mark F. Berry interviews co-pilot Capt. "Ace" Owens
to find out what really happened aboard that B-52!
Spotlight:
THE SHINING & ROOM 237
Eric Somer seizes the opportunity of two Blu-ray releases to revisit
the strange, beckoning geometries of the Overlook Hotel.
Remembering Michael Lennick
1952 – 2014
By Tim Lucas
DVD reviews, including…
THE ACCURSED!
THE AMITYVILLE TRILOGY:
– THE AMITYVILLE HORROR
– AMITYVILLE II: THE POSSESSION
– AMITYVILLE 3-D
THE AWAKENING
THE AWFUL DR. ORLOF
BLUE MOVIE
THE CHILDREN'S FILM FOUNDATION COLLECTION: WEIRD ADVENTURES
THE COLLECTION
THE DOLL SQUAD
THE EYES OF CHARLES SAND
GILA!
GODZILLA VS. MEGALON
THE HOWLING
MADCHEN IM NACHTVERKHER
MIDNIGHT SON
MONDO EROTICO-IN 80 BETTEN UM DIE WELT
MISSION: KILLFAST
NIGHTMARES COME AT NIGHT
RAMMBOCK: BERLIN UNDEAD
REPLIGATOR
SHOPPING
THE UNINVITED
A VIRGIN AMONG THE LIVING DEAD
WOMEN IN DANGER: 1950s THRILLERS
Larry Blamire's Star Turn
James Whitmore in THE BIG VALLEY's "The Death Merchant"
Ramsey's Rambles
Ramsey Campbell on La Herencia Valdemar and La Sombra Prohibida.
Audio Watchdog
Douglas E. Winter on a few defining moments in the history of documentary film music: THE KNOWN UNKNOWN, SORCERER, THIEF, MUSIC FOR INSOMNIACS, KILL THE WOLF and I AM THE CENTER.
Biblio Watchdog
Michael Lennick reviews MEN INTO SPACE, and John-Paul Checkett reviews TOUCHSTONES OF GOTHIC HORROR.
Other contributors featured in this issue:
Michael Barrett, John Charles, Shane M. Dallmann, Lloyd Haynes, Tim Lucas, Kim Newman, Richard Harland Smith, and Budd Wilkins.