First look: Full contents for FANGORIA #338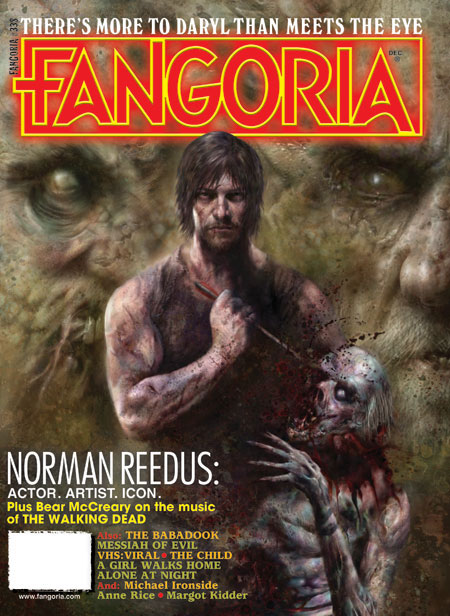 GUTS
RETROSPECTIVE: "MESSIAH OF EVIL," PART ONE A different kind of flesheater film took shape on the California coast 40 years ago.
INTERVIEW: ROBERT VOSKANIAN He raised a "Child" that continues to haunt fans decades after its release.
INTERVIEW: NORMAN REEDUS The "Walking Dead" star has been never been one to walk the expected or traditional path.
INTERVIEW: BEAR McCREARY The composer makes music for "Walking Dead's" zombies and, more importantly, its humans.
PREVIEW: "THE BABADOOK" Jennifer Kent's movie—and creature—with the odd name offer a devastating viewing experience.
PREVIEW: "V/H/S: VIRAL" There's no containing the franchise that has corralled a third clutch of talented filmmakers.
INTERVIEW: MICHAEL IRONSIDE Known for his villains, he's now on our side, confronting an "Extraterrestrial" invasion.
INTERVIEW: MARGOT KIDDER In a sorority house or the "Amityville" house, she was more easily frightened on screen than off.
ON SET: "LATE PHASES" Adrián García Bogliano and co. take a fresh approach to both werewolves and their potential victims.
INTERVIEW: GEORGE SLUIZER Before his death, he opened up about mortality and the preservation of his thriller "Dark Blood."
PREVIEW: "A GIRL WALKS HOME ALONE AT NIGHT" More than the Iranian locale sets Ana Lily Amirpour's vampire film apart. Plus: "The Girl" on the comics page.
PREVIEW: "THE HOUSE AT THE END OF TIME" It's where generations cross paths with frightening results in Alejandro Hidalgo's chiller.
INTERVIEW: ANNE RICE Returning to the Vampire Chronicles with "Prince Lestat," she continues to find beauty in horror.
INTERVIEW: ANNA WALTON Seeking a "Soulmate" in the romantic ghost story, she also shows off villainous chops in "Cherry Tree."
NOTES FROM THE UNDERGROUND: "HI-8" The SOV format returns from the dead in an anthology uniting an octet of exploitationeers.
GRAVY
FIRST RITES Putting up a frightening front
POSTAL ZONE Letters of the positive and negative type
MONSTER INVASION Previews of "Starry Eyes" and "The Exorcism of Molly Hartley"
THE VIDEO EYE OF DR. CYCLOPS Reviews of "Housebound," "Life After Beth," "Dolls," "Ghost Bride" and others