GERMAN BR: JESS FRANCO'S DRACULA PRISONER OF FRANKENSTEIN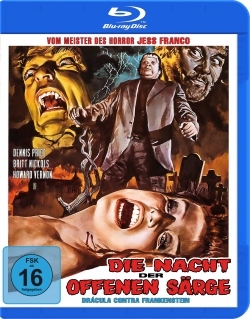 JESS FRANCO's tribute to the monster films of the 1930s and 1940s released by Alive AG.
For the first time uncut on Blu-ray in new HD scanning.
Original title: Drácula contra Frankenstein
Country of production / year: Spain 1972
Director: Jess Franco
Starring: Dennis Price, Howard Vernon, Britt Nichols, Fernando Bilbao
Technical specifications:
Language / sound: German DTS-HD 2.0, Italian DTS-HD 2.0, Spanish DTS-HD 2.0
Image Format: 2.35: 1 (1080p)
Subtitles: German, English
Running time: 82 min.
Extras:
– Booklet
– Kinotrailer
– Removed scenes
– Picture gallery
– Interview with Jess Franco
Further information: http://www.alive-ag.de/index.php?page=artikel&ArtikelNr=6417698