IBAÑEZ MENTA AND SOME SPANISH HORROR IN MONSTER! #26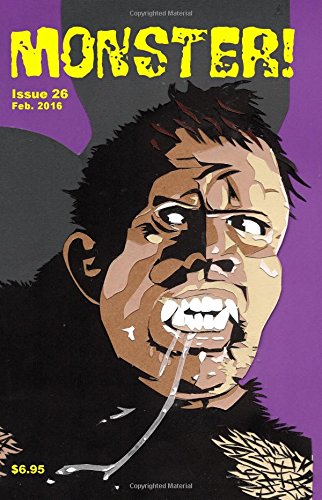 Here it is MONSTER! issue 26 and here you have its contents with some Spanish Horror love:
There's Mexican monster-wrestling movies (LADRÓN DE CADÁVERES, 1956), monster movies from Chile (EL HUÉSPED [2003]) and Spain (GRAVEYARD OF HORROR [1971], THE DRACULA SAGA [1973]), plus bios of lesser-sung actors Wolf Ruvinskis (portrayer of monster-fighter Neutron, The Masked Marvel) and Narciso Ibáñez Menta ("The Spanish Man of a Thousand Faces"), both of whom deserve more coverage in the English-language fan press. In addition, we've got a long and loving look back at gory monster pulp novels, and other movies covered this issue include THE UNNAMABLE (1988) and its sequel THE UNNAMABLE II (1993), NIGHT OF THE CREEPS (1986), HÄXAN: WITCHCRAFT THROUGH THE AGES (1922), HANSEL & GRETEL: WITCH HUNTERS (2013), DAWN OF THE MUMMY (1981), BRAIN DAMAGE (1988), ROCK & RULE (1983), the JEEPERS CREEPERS films, and such more recent fare as MIDNIGHT HAIR (2014), ZOMBIE SHARK, the POLTERGEIST reboot, FRANKENSTEIN, TREMORS 5: BLOODLINES (all 2015) and Richard Mansfield's newest shadow puppet short, THE STORY OF A DISAPPEARANCE AND AN APPEARANCE. All this and plenty of video availability information in our back pages, too. This issue's list of writing and/or art contributors totals: Sebastien Godin, Keith J. Rainville, John Rozum, Eric Messina, Greg Goodsell, Dennis Capicik, Andy Ross, Matthew E. Banks, Matt Bradshaw, Michael Hauss, Martín Núñez, Jolyon Yates, Stephen R. Bissette, Christos Mouroukis, Les Moore, Brian Harris, Tony Strauss, Steve Fenton and Tim Paxton.
Purchasing: http://www.amazon.com/gp/product/1530050146?keywords=monster+26+tim+paxton&qid=1457245974&ref_=sr_1_1&sr=8-1