The Knight Templars from the Blind Dead Fangoria #335's Monsters of the Month!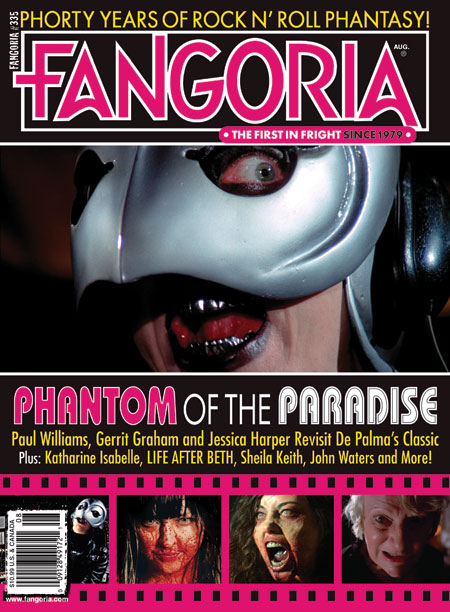 Fagoria issue #335 has chosen The Knight Templars as Monsters of the Month!! Apart from that here are the rest of the contents:
GUTS
MINIFEATURE: RIP ROMANO ALBANI Honoring one of the greats of Italian scare cinematography.
INTERVIEW: PAUL WILLIAMS The beloved songwriter/actor gave the "Phantom of the Paradise" his music—and his nemesis.
INTERVIEW: GERRIT GRAHAM Where's the Beef? In the pantheon of outrageous screen rockers, thanks to his performance. Plus: "Phantom" memories from Archie Hahn, Jessica Harper and Tom Burman.
INTERVIEW: JOHN WATERS The Pope of Trash found surprises on the road, as chronicled in "Carsick."
INTERVIEW: KAREN LAM There's no such thing as simple victimhood when she's behind the camera.
INTERVIEW: KATHARINE ISABELLE In "Hannibal," the "American Mary" star found a thrilling new role.
PREVIEW: "LIFE AFTER BETH": JEFF BAENA AND PAUL REISER The writer/director and co-star talk the year's best zombie film.
PREVIEW: "LIFE AFTER BETH": AUBREY PLAZA She portrays a very different, very sympathetic, very funny living dead girl.
PREVIEW: "THE DEVIL'S MILE" What a long, strange and ultimately satisfying trip it's been for filmmaker Joseph O'Brien.
NOTES FROM THE UNDERGROUND: "ANIMOSITY" Simplifying the production while telling a complex story was key to Brendan Steere's chiller.
PREVIEW: "CHILD OF GOD" Busy as he is, James Franco took the time to craft a carefully considered portrait of misanthropy.
INTERVIEW: VIRGINIA MADSEN She was the early '90s' top horror heroine in "Candyman" and "The Prophecy."
MINIFEATURE: SHAUN HUTSON The British shock author harked back to his country's Gothic heritage as a Hammer novelizer.
PREVIEW: "AS ABOVE, SO BELOW" Descend into the death-suffused Paris catacombs with John Erick and Drew Dowdle.
INTERVIEW: SHEILA KEITH, PART TWO As the '70s continued, the actress remained Pete Walker's go-to crazy lady.
DIARY OF THE DEB: "MODEL HUNGER," PART ONE Taking the helm for the first time, Debbie wasn't starved for enthusiastic collaborators.
GRAVY
FIRST RITES "Paradise" never lost
POSTAL ZONE "Godzilla" is a smash
MONSTER INVASION Previews of "Suburban Gothic," "Sharknado 2: The Second One," "Comedown" and "Ten"
THE VIDEO EYE OF DR. CYCLOPS Reviews of "Ginger Snaps," Criterion's "Scanners," "100 Tears," "Afflicted" and others
MONSTER OF THE MONTH The Knights Templar from "Tombs of the Blind Dead"
DUMP BIN DIARIES MGM's " 'Carrie' Triple Feature"