VIDEO WATCHDOG #183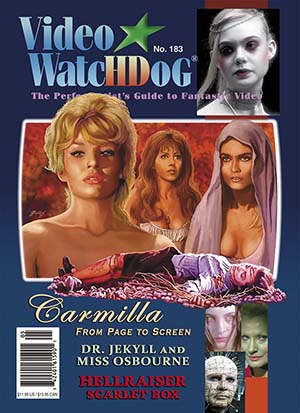 CONTENTS:
How Do You Solve a Problem Like
CARMILLA?
Part One
In which John-Paul Checkett treats us to a masterful reading of J. Sheridan Le Fanu's influential but oft misunderstood novella, and its sibling stories from IN A GLASS DARKLY, with thoughts on their adaptations to film.
Spotlight:
THE STRANGE CASE OF
DR. JEKYLL AND MISS OSBOURNE
Tim Lucas reviews Arrow Video's 2K restoration of Walerian Borowczyk's much-censored Robert Louis Stevenson adaptation of 1981.
DVD reviews, including…
AMER
AXE
BLOOD AND ROSES
CATACOMBS
CLIVE BARKER'S ORIGINS: SALOME AND THE FORBIDDEN
CRY WILDERNESS
CRYPT OF THE VAMPIRE
CURSE OF THE FACELESS MAN
DEATH'S DOOR
THE FEED
HELLRAISER: THE SCARLET BOX—LIMITED EDITION
IN SEARCH OF BIGFOOT
JENNIFER
KIDNAPPED COED
LUST FOR A VAMPIRE
PHANTOM FROM 10,000 LEAGUES
PORNOSPIELE MIT STOCK UND PEITSCHE
QUEEN OF BLOOD
SCREAM AND SCREAM AGAIN
THE SINS OF DRACULA
SUPER SOUL BROTHER
TO ALL A GOODNIGHT
TURKEY SHOOT
TWINS OF EVIL
TWIXT
THE VAMPIRE LOVERS
VAMPYR
VAMPYROS LESBOS
WHITE OF THE EYE
Larry Blamire's Star Turn
Natalie Schafer and Louise Latham drink hard to keep Death at bay!
Ramsey's Rambles
Ramsey Campbell on THE BORDERLANDS and THE CASEBOOK OF EDDIE BREWER.
Audio Watchdog
Douglas E. Winter' discusses Future Retro themes in Tarantino's THE HATEFUL EIGHT, FRIZZI 2 FULCI, DEMONS, and more!
Biblio Watchdog
JESS FRANCO, OU LES PROSPÉRITÉS DU BIS reviewed by Tim Lucas
Other contributors featured in this issue:
John Charles, Lloyd Haynes, Chris Herzog, Kim Newman, Eric Somer and Brad Stevens.
ORDERS AND PREVIEW: http://www.videowatchdog.com/home/home.html