Alex de la Iglesia in Fanomenon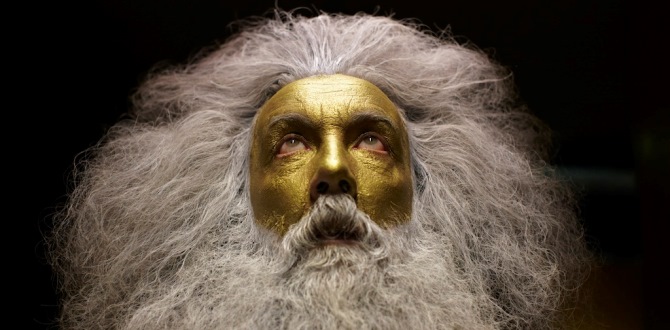 Fanomenon is the UK's greatest genre film event offering a unique combination of great fantasy, sci-fi, horror, anime and cult cinema experiences, both light and dark, that cannot be found together anywhere else together on the planet.
FANORAMA
Exclusive events in the Fanorama section include the world premiere of new Yorkshire thriller The Taking, and graphic novelist Alan Moore and filmmaker Mitch Jenkins on stage at Leeds Town Hall with their new project Show Pieces. Studio Ghibli documentary The Kingdom of Dreams and Madness, Korean action sensation A Hard Day, and German fantasy horror The Samurai are among the line-up of new films.
Following the suceess of the Basha poster exhibition in North Bar last year, we are presenting a selection of Drew Struzan's seminal film posters to coincide with the remarkable documentary Drew: The Man Behind the Poster about his illustrious career. The exbition is free and runs from 31 OCtober – 10 December.
FANATHONS
Fanomenon's epic movie marathons are always popular, with hundreds of film fans literally going to great lengths to experience the latest in Japanese anime and worldwide horror filmmaking. This year's Anime Day features a brand new print of Ghost in the Shell, a new Dragon Ball Z feature, and the award-winning Giovanni's Island.
Night of the Dead returns for its 14th edition with a selection of gruesome films including ABCs of Death 2, festival favourite Housebound and a brand new Dead Short competition. With guests,  giveaways (from our new sponsor Shameless Screen Entertainment) and gore galore, this is a night any self-respecting horror fan won't want to miss.
Day of the Dead 8 has a truly international programme with demonic possession from Spain (Asmodexia), werewolves from Denmark (When Animals Dream), vampires from New Zealand (What We Do in the Shadows) and Kevin Smith's latest body horror (Tusk). The audience also gets to vote for their favourite film in the Silver Méliès fantastic short film competition.
RETRO SPECIALS
LIFF audience favourite Sound of Noise returns in a free screening as part of Leeds Free Cinema Week and 2001: A Space Odyssey screens again due to popular demand as part of the BFI's Sci-Fi: Days of Fear and Wonder season. Discover one of Japan's most talented and original animators, Masaaki Yuasa, in a special selection of his work. Revisit three anime classics on the big screen, Gainax's Wings of Honneamise and Studio Ghibli's Nausicaä of the Valley of the Wind and Grave of the Fireflies.
RETRO – ÁLEX DE LA IGLESIA
Álex de la Iglesia has been making films for over 20 years and yet, unlike his contemporaries (Guillermo del Toro, Jean-Pierre Jeunet, Kevin Smith), his films are mostly unknown in the UK. Regardless of the genre or the plot, all Iglesia's films have his trademark black humour and social commentary. Discover some of the most overlooked independent horror comedies of the last two decades with four of his greatest films.
THE LAST CIRCUS
Mon 17th Nov, 2014, 18:30 @ Hyde Park Picture House – £8.00 / £6.00 Ticket linkThu 20th Nov, 2014, 13:00 @ Hyde Park Picture House – £8.00 / £6.00
Witching and Bitching
Wed 19th Nov, 2014, 20:30 @ Hyde Park Picture House – £8.00 / £6.00 Ticket linkThu 20th Nov, 2014, 15:30 @ Hyde Park Picture House – £8.00 / £6.00
Ferpect Crime
Sun 16th Nov, 2014, 20:45 @ Hyde Park Picture House – £8.00 / £6.00 Ticket linkMon 17th Nov, 2014, 14:00 @ Hyde Park Picture House – £8.00 / £6.00
The Day of the Beast
Sat 15th Nov, 2014, 18:00 @ Hyde Park Picture House – £8.00 / £6.00
RETRO – KONSTANTIN LOPUSHANSKY
While the cold war still loomed ominously in the USSR, Russian director Konstantin Lopushansky created two visionary post-apocalyptic masterpieces. LIFF28 is proud to present extremely rare screenings of both Letters from a Dead Man (1986) and Visitor to a Museum (1989) – a compelling companion piece to Tarkovsky's Stalker, on which Lopushansky was an assistant. Each film follows a central character through seemingly post-nuclear landscapes, thoughtfully reflecting on humanity's struggle and hopes for the future.
RETRO – THE AMERICAN NIGHTMARE
The social injustice, unemployment and poverty faced by many in post-Vietnam America gave rise to a number of angry young directors who were driven to make violent and often bleak films about the death of the American Dream. Buddy Giovinazzo, Jim van Bebber and Jim Muro all hailed from different states and had very different approaches to the subject but all created films that have gained cult status and which are brought together for the first time at LIFF28.
MORE INFORMATION HERE: http://www.leedsfilm.com/films/programmes/fanomenon/