First look: FANGORIA #337's full contents, plus cover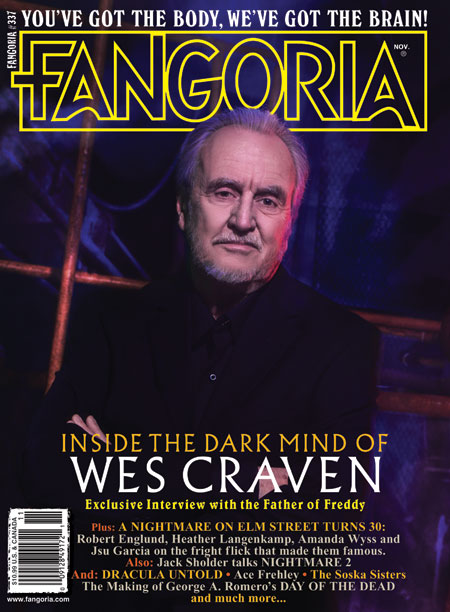 GUTS
INTERVIEW: WES CRAVEN He's made generations afraid to go to sleep with the original, classic "A Nightmare on Elm Street."
INTERVIEW: ROBERT ENGLUND His energy and menace behind the makeup made Freddy Krueger the movies' top modern monster.
INTERVIEW: HEATHER LANGENKAMP The actress faced Freddy three times and still lives to recall it fondly.
INTERVIEW: AMANDA WYSS Her slashing, levitating death cut deep into the psyches of all who saw "Nightmare."
INTERVIEW: JSU GARCIA During waking hours, going by Nick Corri, he was the greatest menace to Elm Street society.
MINIFEATURE: NIGHTMARE GLOVES Let's give a big hand to fingerblade replica creator Anders Eriksen.
INTERVIEW: JACK SHOLDER Following up Craven, he built a greater grosser with "A Nightmare on Elm Street 2."
ON SET: "DRACULA UNTOLD" Join us on a recreation of Transylvania for the reexamination of the legendary vampire.
PREVIEW: "ABCs OF DEATH 2" The building blocks of the new omnibus were directors with many ways to spell terror.
INTERVIEW: ACE FREHLEY Once KISS' Spaceman, he came down to Earth and continues to rock out.
INTERVIEW/PICTORIAL: JEN AND SYLVIA SOSKA The Twisted Twins pose for our camera and prove they can play with the big boys on "See No Evil 2."
INTERVIEW: DEREK MEARS No stranger to playing monsters, he donned the garb of his first Russian ghoul for "Dead Snow 2."
SPECIAL EXCERPT: "THE MAKING OF GEORGE A. ROMERO'S 'DAY OF THE DEAD' " With rare photos from the set of the zombie masterpiece!
INTERVIEW: KIM GOTTLIEB-WALKER Her lens was right alongside John Carpenter's on "Halloween" et al.
PREVIEW: "EXISTS" A different look at Bigfoot is offered by Eduardo ("Blair Witch") Sanchez's return to found footage.
PREVIEW: "STONEHEARST ASYLUM" It went through many locales and occupants, as scripter Joe Gangemi explains.
MINIFEATURE: TOP 10 MOST TERRIFYING HAUNTS Where to get your scare on this Halloween season!
MINIFEATURE: JOE R. LANSDALE The Texas-based author returns to horror by taking us to an island housing "Prisoner 489."
NOTES FROM THE UNDERGROUND: "FOUND" Scott Schirmer reveals how he wrought brotherly fear on a microbudget.
GRAVY
FIRST RITES Finally ready for Freddy
MONSTER INVASION Previews of "Housebound" and "The Creep Behind the Camera"
THE VIDEO EYE OF DR. CYCLOPS Reviews of "The Battery," "Oculus," "The Hunted" and others
DUMP BIN DIARIES Timeless Media's " 'Howling' Trilogy"