FULL MOON DVD REVIEW: VOODOO PASSION (Jess Franco, 1977)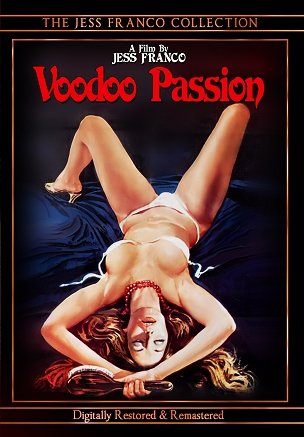 Reviewed by & (C) Robert Monell, 2017
Filmed for Erwin C. Dietrich's Elite Productions, this 1977 voodoo thriller was shot under the title RUF DER BLONDEN GOTTIN. This was one of Franco's final productions for the Zurich-based producer and a transition to his 1980s Spanish period.
Susan Haus (Ada Tauler) arrives in Haiti from Puerto Rico to live with her diplomat husband, Jack (Jack Taylor), the British Consul on the island nation. But all is not what it seems. Jack seems to be involved in a secret affair with his promiscuous sister, Olga (Karine Gambier), which Susan discovers shortly after her arrival. Adding to the sexual melodrama are a series of nightmares Susan has involving her being lured into wild voodoo rituals being conducted in the jungle by a group of locals who chop up animals and use their blood in the rites. Susan is sexually involved with Ines (Nanda Van Bergen) during nightmare rites. Ines, an employee of Jack Haus, also performs nude dances to the beat of the voodoo drums. Susan's dreams take a violent turn when she dreams of seducing and murdering several of Jack's diplomatic associates. Are the nightmares just bad dreams, or is Susan really committing murders during episodes of somnambulism?
VOODOO PASSION is a colorful, pulp fiction mixture of sex and voodoo tropes which unfold between extended erotic interludes between Susan and Jack, Olga and Jack, and Susan and Olga. There's full female and male nudity and a lot of soft-core sex, but the action never takes a turn into hardcore. Most interesting is the way the whole thing becomes a Eurospy thriller when Jack is revealed to be Soviet agent Patrick Forrester, a USSR operative posing as Haus, who is assigned to eliminate political figures in Haiti. Susan will be the one who carries out the political assassinations and will bear the blame as a schizophrenic later. Her dreams turn out to be real events which she is forced to act out while under the hypnotic control of Jack and his associate Dr. Barre (Victor Mendes). This genre mix makes VOODOO PASSION more interesting than some of Franco's straight soft-core efforts of the 1970s and 80s. Jack Taylor, who appeared in 11 Jess Franco films, including SUCCUBUS (1967), COUNT DRACULA (1969) and EUGENIE, THE STORY OF HER JOURNEY INTO PERVERSION (1970), delivers a typically professional performance as the manipulative husband-spy. Hardcore actress Karine Gambier is also very good as the perverse Olga, who at the end is revealed not to be Jack's sister after all. Not that Franco shied away from themes of incest in other films such as EUGENIE DE SADE (1970) and LORNA, THE EXORCIST (1974), two of his very best efforts.
The voodoo nightmares and murders scenes are filmed with the director's usual flair for erotic-violent visual delirium, using numerous mirror shots, color filters, shock cuts, exotic sculptures and striking camera angles. The Haiti setting is represented by a clever use of botanical gardens in Zurich, stock footage of Haiti and scenes shot on the same tropical Portuguese locations seen in A VIRGIN AMONG THE LIVING DEAD (1971). It's unclear whom the striking "Nanda Van Berger" actually was. Credited as "Vicky Adams" she at times resembles the French television/film actress Muriel Montossey (CECILIA, DEVIL HUNTER), who also used the name Vicky/Victoria Adams in other Franco films. But it's not her, nor is she the "Nanda Van Bergen" who appears as the wardress in Franco's Dietrich produced Women In Prison epic, LOVE CAMP (1977). Her real identity is a mystery. The very loud bongo drumming and jazz saxophone music heard during the voodoo rites holds attention as alternative Walter Baumgartner compositions, if not typical voodoo-horror music.
Mind control is a key Jess Franco theme going all the way back to his earliest films (GRITOS EN LA NOCHE, THE DIABOLICAL DR. Z) and the plot of this is very similar to that of NIGHTMARES COME AT NIGHT (197), in which Jack Taylor also plays a villain. Franco would produce another variant of this story with his ultra stylish Golden Films Internacional production MIL SEXOS TIENE LA NOCHE (1982), which definitely qualifies as Tier One Jess Franco. Ada Tauler, the female lead in VOODOO PASSION, was also the female lead in LOVE CAMP and had a role in the director's dreamlike thriller AT OTRO LADO DEL ESPEJO (1963). She can also be seen in such German lensed horror films as THE HORRIBLE, SEXY VAMPIRE (1970). Karine Gambier, Jack Taylor and Pamela Stanford appeared together in another 1977 Dietrich production directed by Franco, SEXY SISTERS aka SATANIC SISTERS/DIE TEUFLISCHEN SCHWESTERN (1977).
OBSESSION: THE FILMS OF JESS FRANCO (1993) credits Pamela Stanford (Monique Delaunay) as being in VOODOO PASSION, but she is not in this or any other version which I've seen.
VIDEO quality, as usual with these Dietrich transfers, is good to very good, with sharp definition, enhanced detail and vivid colors, especially reds and greens, throughout. The Dietrich negatives, from which these were mastered in HD, were carefully stored, so there are no visible marks, scratches, lines or any kind of damage.
AUDIO: 5.1, English language only. I have also seen the German language version of this and much prefer the English dubbing, which better suits the British characters and more closely matches the lip movements of the actors.
SPECIAL FEATURES; The original 3m 45s German theatrical trailer; Franco, Bloody Franco, a very interesting, seldom heard 40 minute interview with the director during the making of JACK, THE RIPPER in 1976, in French with English subtitles; and a 6 minute VHS trailer reel, including vintage, blurry coming attractions EROTIKILL, THE SCREAMING DEAD (DRACULA, PRISONER OF FRANKENSTEIN), OASIS OF THE ZOMBIES, A VIRGIN AMONG THE LIVING DEAD and DEMONIC, all previous WIZARD VIDEO releases. Vintage VHS collectors will appreciate this.
___________________________________________________________________________
Robert Monell is a filmmaker, writer, critic and blogger. He is the creator and editor of I'M IN A JESS FRANCO STATE OF MIND and CINEMADROME www.cinemadrome.yuku.com. His films include the screenplays for the web series RETURN OF THE BLOODSUCKING NAZI ZOMBIES, the short feature ZOMBIE 2024