LATEST NEWS ABOUT MOLINS DE REI

The Feature Films Contest Official Selection for the 34th Molins de Rei Horror Film Festival includes: Some Kind of hate (Adam Egypt Mortimer), The House on the Pine Street (Austin and Aaron Keeling), The Hollow one (Nathan Hendrickson), III (Pavel Khvaleev), Bite (Chad Archibald), True Love ways (Mathieu Seiler), Luna de Miel (Diego Cohen), Excess Flesh (Patrick Kennelly), Black Mountain Side (Nick Szostakiwskyj), Howl (Paul Hyett), The Hallow (Corin Hardy), Turbo Kid (François Simard, Anouk Whissell, Yoann-Karl Whissell), We are still here (Ted Geoghegan), Bunny the Killer (Thing Joonas Makkonen) and Deathgasm (Jason Lei Howden).
GUESTS:
Kate Alden, main actress and producer of The Hollow One (USA), screening on Tuesday 10th of November at 10:15pm. She work as actress and producer and her previous film was The Device (2014). This year she also worked in Stages of Grief and Wait.
Carl Toftfelt, one of the main actors of Black Mountain Side (Canada), screening on Wednesday 11th of November at 8:45pm. He worked in 2005 in Tjenare kungen and next year will be in the drama Utan Hud.
Patrick Kennelly, director of Excess Flesh (USA), screening on Thursday 12th of November at 8:45pm. Kennelly presents his first feature film wich he also produces and next year will finish Guys Reading Poems.
Diego Cohen, director of Luna de Miel (Mexico), screening on Thursday 12th of November at the double sesion starting at 8:45pm. He will present us this interesting film nominated at Brussels International Festival of Fantasy Film and Puchon International Fantastic Film Festival.
Paul Hyett, director of Howl (United Kingdom), screening on Saturday 14th of November in the 12 Hours of Terror. Hyett debuted as a director in 2012 with The Seasoning House after a long carrer on make-up and special effects.
Joonas Makkonen (director), Enni Ojutkangas (main actress), Vincent Tsang (actor) and Henry Saari (actor) de Bunny the killer thing (Finland), screening on Saturday 14th of November in the 12 Hours of Terror.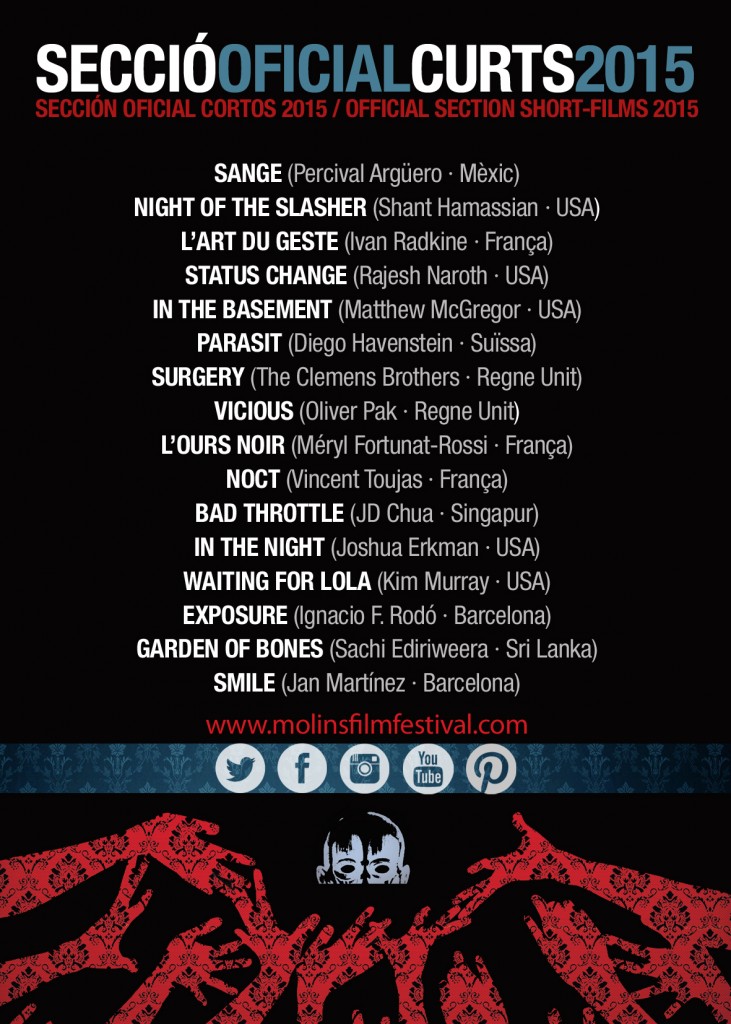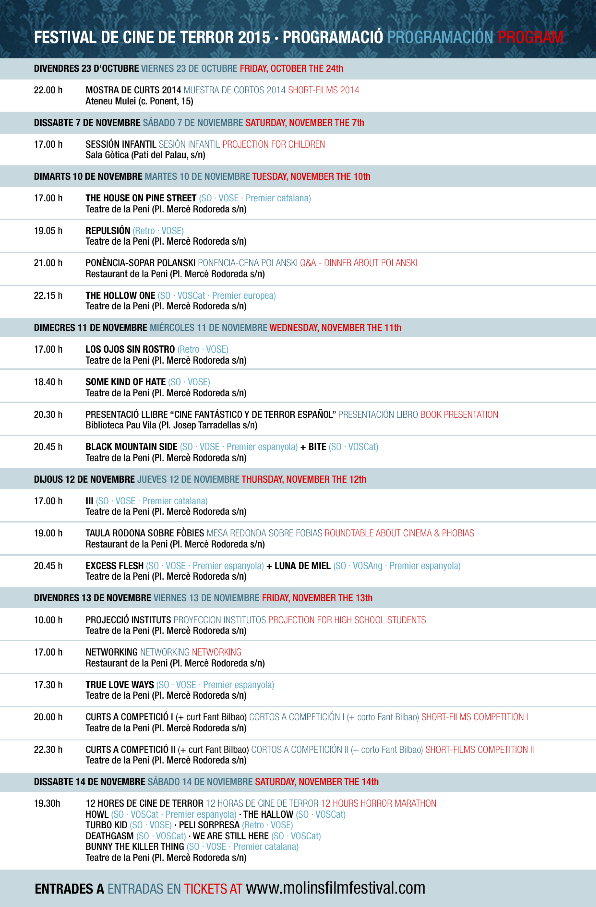 Further information and tickets: http://www.molinsfilmfestival.com/