REVIEW BARBED WIRE DOLLS BLU-RAY [FULL MOON FEATURES]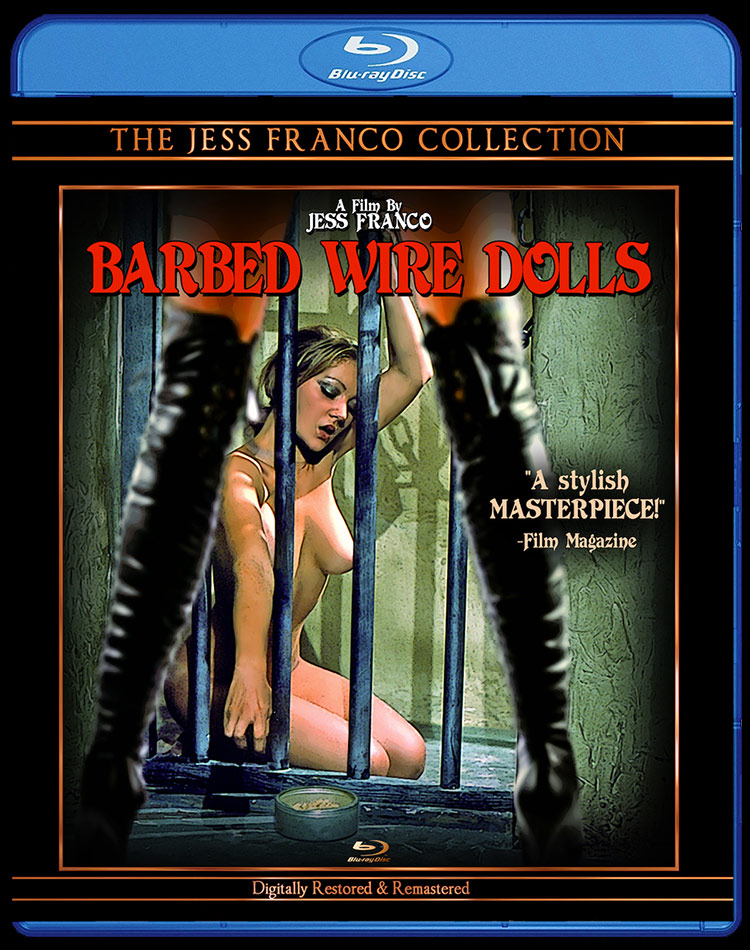 Robert Monell, 2018
Jess Franco's Women in Prison portfolio grew meaner and leaner until it achieved unprecedented levels of sadism and perversity. Starting with BARBED WIRE DOLLS (1975) he stripped down the format to bare essentials, just like his female cast of abused inmates. It all started with his 1969 exploitation hit 99 WOMEN, which turned out to be Grindhouse success in the United States and pretty much wherever it played. That film, produced and written by Harry Alan Towers, set the template which Franco would use again and again for several decades. The main character in that film was an innocent woman (Maria Rohm) who is taken to a segregated prison on a remote island off the coast of Central America. The women's Wardress (Mercedes McCambridge in a completely over-the-top turn) warns the new inmates that she makes the rules. The Prison Governor (played in subdued fashion by Herbert Lom) uses the female inmates as sex toys, delivered to him by the Wardress. This corrupt set-up seems to have been going on forever, but it is threatened by the arrival of a Government inspector while the innocent inmate and some friends attempt to escape through the jungle. This is pretty much the story of BARBED WIRE DOLLS, his third Women In Prison film after the Sadean DEVIL'S ISLAND LOVERS (1972). The film was written by Franco himself, who also was the film's director of photography and appeared in the role of the main character's father. This hands-on approach leads to an appropriately rough and ready look, with plenty of elaborate zoom shots moving in and out of all the nooks and crannies of the prison, which is represented by the crumbling, overgrown-with-weeds 18th Century Fort near Antibes, in Southern France. Some of the dazzling white clinical interiors were shot in Zurich, where producer-distributor Erwin C. Dietrich's studio base was located.
The female Wardress here is played by the striking Belgian actress Monica Swinn (FEMALE VAMPIRE, THE DUKE OF BURGUNDY) who is absolutely hypnotic in terms of intensity as she marches around and commands the complete attention of the guards, the prisoners, the prison medical director Dr. Costa (Franco regular Paul Muller) and the local Governor of Prisons (Roger WOMEN BEHIND BARS Darton). The Wardress relaxes in see-through lingerie, high black leather combat boots and reads histories of Nazi Germany. Dr. Costa is a craven creature, who started out working in corrections as a male nurse and murdered the real Dr. Costa and took over his identity. The Governor spends most of his time dallying with the female prisoners, ordering them to masturbate on demand, as he watches like a typical Jess Franco voyeur. Everyone is caught up in a cycle of cruelty, voyeurism and corruption. There is an absolute power differential. Nestor, played in foaming-at-the-mouth fashion by a leering Eric Falk, is introduced torturing a starving inmate (Beni THE GIRL FROM RIO Cardoso) by whipping her as he taunts her with a dish of food. The fact that the woman is obviously mentally ill makes it all the more disturbing. This is watched by the Wardress and Dr. Costa, immediately introducing them as voyeurs as well as sadists. Maria, (Romay) is introduced into the population and is tortured with electricity while chained to metal bed springs. Falk's warder is particularly sadistic, often inserting his whip into the private regions of the inmates and even commences to rape an escaping prisoner (Martine DORIANA GRAY Stedl). Falk would become a frequent villain in the films Franco made for producer Dietrich. Maria is there for the murder of his father, played by Jess Franco himself, only she didn't really murder him. He was killed by the Wardress after knocking himself unconscious while attempting to rape his daughter. That scene is acted out by Franco and Romay in fake slow motion, as they absurdly show down their movements as the camera rolls at regular speed. I guess the actual camera used to film the production was not fully functional for slow motion filming or there just wasn't enough time. Actually that technical screw up is pretty amusing to watch and qualifies this for a classic of Le Bad Cinema. On a more serious not, rape is a subtext in all of Franco's Women in Prison entries, the female inmates being victims of rape both before and during the incarceration, often at the hands of authority figures. Some of the inmates, like the raving fantasist Pampadour (Peggy Markoff), have collapses into complete madness.
After more tortures, rapes and assorted atrocities by the prison staff, a letter written to Government officials, exposing the corruption in the prison, is intercepted by the Governor. This leads to more torture, a desperate escape attempt and the final murder of Maria and her friends at the merciless hands of the female Wardress. None of this is staged very convincingly, but Franco frames many shots through mirrors and often uses the zoom lens as a means to focus attention on the vile happenings within the prison walls and make them more inescapable. The performances of Monica Swinn and Paul Muller as the corrupt prison officials who make life hell on a daily basis for the prisoners are so credible and realistic that they move the events into horror film territory. The guards, especially Erik Falk, are as much criminals as the worst of the inmates. Everyone is evil except Romay's character and her loyal, equally tortured friends, and they're destroyed at the end. That would be the template Franco would follow in his subsequent Women-In-Prison entries, but rarely does it have the raw emotional power that it has here. And Franco's direction really makes the viewer feel the heat, fear and hopelessness of being trapped in a tropical prison ruled by ruthless sadists.
The music features Daniel White's score from the 1963 Franco directed "Western" EL LLANERO, with Spaghetti Western icon Jose Saurez, with additional music by Dietrich's in-house composer Walter Baumgartner. When Franco finally delivered the completed film Producer-Distributor Erwin C. Dietrich was horrified at the cheap look of the film and the actions depicted. But the film was a big hit when released in Germany in 1976 and later was released in the US, circa 1977, under the title BARBED WIRE DOLLS, a crowd pleaser on the Deuce and in other urban centers. It's all compulsively watchable Grindhouse entertainment with all the lesbian interludes, nudity, mental, verbal and physical abuse, sexually explicit tortures and random acts of violence filling the 81 minute run-time. Dietrich originally thought that Franco had shot another film, using his money, to make a similar film which was purchased by a different company, WOMEN BEHIND BARS (1975). But that film, using some of the same cast and locations was made shortly afterward with advance money from Eurocine and an Italian company, with a completely different story and characters. That film is even faster paced but goes a little easier on the sexual torture angle. Of course, Franco's 1977 ILSA, THE WICKED WARDEN would be his ultimate Women In Prison blow out, with a depraved Dyanne Thorne (ISLA, SHE WOLF OF THE SS) as the ultra-sadistic Wardress of an even more corrupt, perverted and violent prison. That film ended with Thorne being eaten alive by her inmates. The 1980 SADOMANIA, a Spanish-German co-production featuring trans gender icon Ajita Wilson, ratchets the sex and sadism quotient up even further.
BARBED WIRE DOLLS is presented in its US Blu-ray debut in 1080p HD resolution from a digital master taken from Erwin C. Dietrich's original negative elements. It looks amazingly clean, luminous, colorful and sharp as possible, given the frequently out-of-focus original photography. The audio is DOLBY DIGITAL 5.1 Surround, DVD Standard. English language track only, instead of the French and German tracks, with English subs. included on the earlier German Ascot Elite Blu-ray. Given the price, this is recommended to those who don't have or can't get the Ascot-Eilte Blu-ray, and it looks and sounds pretty much on par with that release. An interview with DUKE OF BURGUNDY director Peter Strickland on how Jess Franco influenced him, is also included along with several vintage Jess Franco VHS trailers, such as DRACULA, PRISONER OF FRANKENSTEIN and OASIS OF THE ZOMBIES. Region Free.
Given the effectively gloomy atmosphere maintained by the settings, the director and his cast, the brooding music, the tortured inmates moving on an ever downward spiral, the no-holds-barred scenes of brutal torture and perverse erotic encounters, this remains a classic of the genre which makes this HD release a recommended purchase for fans of this genre, exploitation hunters and Jess Franco enthusiasts. It looks and sounds as good as its previous HD release and has the advantage of being reasonably priced and easily ordered in this US HD debut.
___________________________________________________________________________
Robert Monell is a filmmaker, writer, critic and blogger. He is the creator and editor of I'M IN A JESS FRANCO STATE OF MIND and CINEMADROME www.cinemadrome.yuku.com. His films include the screenplays for the web series RETURN OF THE BLOODSUCKING NAZI ZOMBIES, the short feature ZOMBIE 2024