PREVIEW: SUPERSONIC MAN BROUGHT BACK TO LIFE ON COMIC!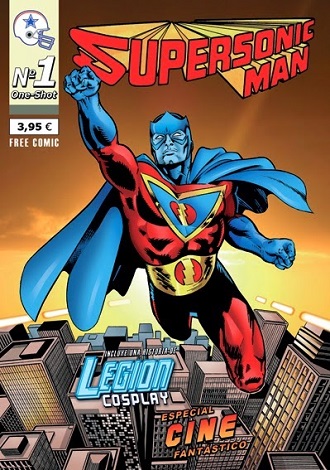 Supersonic man is a super hero created by J.P. Simon in 1979, whose main mission was protecting mankind from evil Dr. Gulik. Supersonic man is not from Earth he was sent to our planet to save us with the help of his superpowers: flight, bulletproof skin and the ability to turn guns into bananas.
For this comic book Héctor Caño, in charge of the screenplay and pictures, has kept the original playful innocent craziness we could find in JP Simon's flick at the same time he creates a new story that will surprise and delight all fans. Before this, he had already published an online comic paying tribute to the cult hero: https://issuu.com/eneasbeat/docs/supersonic_returns
It is an adventure portrayed in a classic style that remains of cult standards from the 80s which fantasy elements seemed to be taken from vintage episode collections but with a Spanish touch as now our hero is leaving the city he once belonged to in order to…. I can't say more, it is better that you experience the surprise on your own.
Apart from this new chapter in Supersonic's life, the book includes an article about the character, and interview to José Luis Ayestarán, the one who played the character in J.P. Simon's original movie and some data about the Spanish director.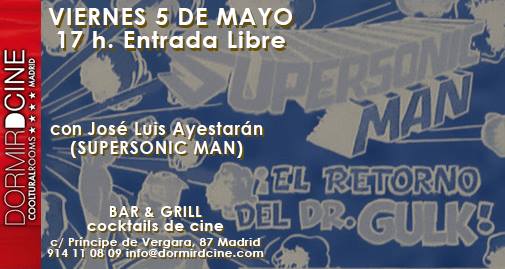 The comic will be soon available at bookshops all around Spain with 5,000 copies and it will be presented in Madrid this Friday May 5 at DormirDCine Cooltural Rooms (http://dormirdcine.com/ ). There the author of the comic book Hector Caño,  Luis Esquinas- director of  Simon's Jigsaw, a doc about the J.P. Simon father of our superhero- José Luis Ayestarán- the actor behind Supersonic man's mask, once Tarzan and one of the stunts in Conan- among others will talk about the project and their works. After that, Simon's Journey to the Center of the Earth flicks will be shown.
So far this comic book  is not English friendly and it is only available in Spanish.
__________________________________________________________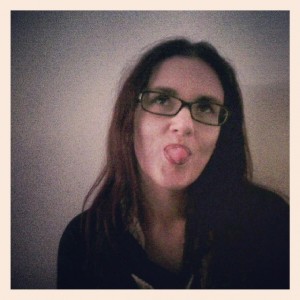 Elena Anele is the woman in charge of SPANISHFEAR.COM, Horror Rises from Spain  and Un Fan de Paul Naschy . A literature and cinema researcher, finishing her postgraduate studies with a thesis about the mystic filmmaker José Val del Omar. She has published in different media and books as Fangoria or Hidden Horror. She has also been in charge of several translations including Javier Trujillo's complete works, La Mano Film Fest, The Man who Saw Frankenstein Cry and many more.