REVIEW: ROLLS ROYCE BABY MAD FOXES FULL MOON FEATURES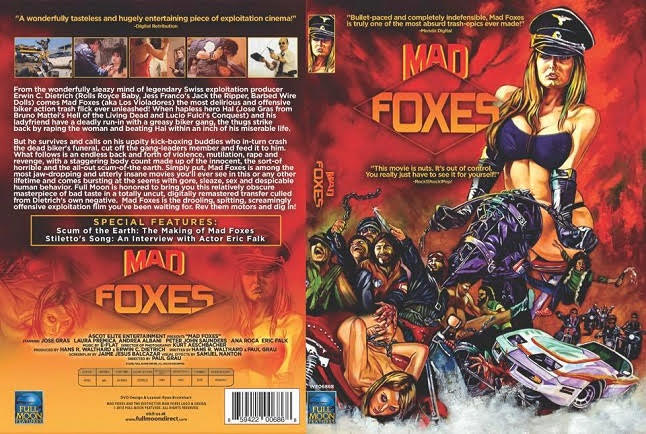 by Robert Monell
It was recently announced that Swiss exploitation producer Erwin C. Dietrich passed away in March, 2018. A titan of European sexploitation he cornered that market with over 100 productions, many of which he directed. With that in mind it is a positive that two of his better efforts have debuted on DVD from FULL MOON FEATURES. Jess Franco muse Lina Romay stars as an uninhibited model in ROLLS ROYCE BABY, which Dietrich wrote under the name Manfred Gregor and directed as Micheal Thomas. It opens with Romay shaving her nether regions as she prepares for a nude photo shoot. Actually, Romay plays "Lisa Romay" a model-porn actress who hits on everyone around her until deciding on having her chauffeur (Dietrich regular Eric Falk) drive her around the countryside in search of horny hitchhikers and wanderers to seduce. If the candidates are reluctant the chauffeur simply throws them on top of his beautiful employer and drives off. These drives, from her palatial mansion and back, become a ritual and her reason for living. The vintage Rolls is in top condition and sports classic 1970s era New York State license plates with the yellow lettering on a blue background, the opposite of the contemporary design.
Rolls Royce Baby – Trailer from Full Moon Video Lab on Vimeo.
This is a sex positive film, meaning sex is seen as a healthy, fun exercise, without hangups in a pre AIDS age. Sex is Eros here, rather than Thanatos, as it often is in Jess Franco erotica. Elegantly composed by Andreas Demmer and featuring a delightfully upbeat score by Walter Baumgartner, ROLLS ROYCE BABY may be Dietrich's masterpiece as a director, or at least a pleasant diversion. There's only one real hardcore scene in it, but Romay lounges around totally naked, legs spread, leaving nothing to the imagination throughout. The most explicit scene involves Romay's interaction with several long distance truck drives. The hardcore quotient is minimal but it's still nonstop sex, all photographed with some style and wit. There are worse ways to spend 85 or so minutes. The are no special features on this DVD, but the video quality is outstanding, bursting with color, sharp and luminous. There are two sound options, Stereo and 5.1, the latter sounding more full bodied.
MAD FOXES (Los Violadores) is a legendary gorefest in which uncredited producer Dietrich focuses on an ultra violent gang of neo Nazi bikers who beat the protagonist and rape his girlfriend as they exit a dance club. The reason? Because the victim drove one of the bikers off the road after they harassed him. Things get really ugly pretty quickly and the violence level is dialed up to 10 scale.
Dietrich's wildest piece of exploitation, a jet fueled, blood-soaked Nazi biker sleaze fest, MAD FOXES (Paul Grau, 1981),featuring Jose Gras (the macho swat team leader in Bruno Mattei's zombie epic HELL OF THE LIVING DEAD, billed as Robert O'Neal here) as a young, well-to-do driver of a Corvette Stingray who goes on a rampage of ultra violent revenge against the swastika wearing biker gang who attacked him and his girlfriend (Andrea Albani, billed as Saly Sullivan), and subsequently murdered his family. It is a film that needs to be seen to be believed and defines the term European Trash Cinema, a Eurotrash verion of A CLOCKWORK ORANGE. Eric Falk is an absolute hoot as the towering, ultra-sadistic gang member who commits some of the more heinous crimes, such as driving a pair of gardening shears into a victim's face. He also has quite a few full frontal nude scenes and gets dynamited to death while on the toilet. There's also the massacre of the hero's karate school friends and the bloody murder of his mother and father, along with the gutting of the family maid. The mayhem is strewn with innards and body parts, Lucio Fulci style. From the opening shot of the Corvette barreling into Barcelona (shot from wheel level) to the explosive final image this one fast moving, lean, mean machine. The white Vette looks great, wrapped in a bright orange decal, and the blood flows constantly and copiously. Spanish horror buffs with note that Gras finally tracks down the last biker and his dominatrix girlfriend in the PROFILMES Studios. Yes, the same Barcelona based studio behind many Spanish horror films of the 1970s, including the iconic HORROR RISES FROM THE TOMB (1972). The high energy Metal score is credited to E-FLAT (actually Dietrich in-house composer Walter Baumgartner; some of the cues are familiar from 1970s Dietrich produced Jess Franco titles). With songs screamed in Death Metal style by KROKUS and THE JACKYS! Co-produced in association with the notorious Spanish producers Alfonso and J.J. Balcazar, who also co-wrote the screenplay. The actual director was Paul Grau, who does quite a stylish job with all the fast paced mayhem. The striking Spanish actress Andrea Albani went on to suffer from drug addiction and died a premature AIDS related death
The Mad Foxes DVD looks just as sparkling clean, sharp and colorful as ROLLS ROYCE BABY, also with two sound options, 5.1 and Dolby Digital. Go with the Dolby Stereo audio on this one. Special Features include a short featuring wild man Jess Franco actor Eric Falk (ILSA THE WICKED WARDEN) and a longer interview with Falk and the late Dietrich on the making of the film in Spain. Both DVDs are recommended digital debuts of these Dietrich produced gems. Both DVDS were remasted in HD directly from Dietrich's 35mm original negatives..
(C) Robert Monell, 2018
___________________________________________________________________________
Robert Monell is a filmmaker, writer, critic and blogger. He is the creator and editor of I'M IN A JESS FRANCO STATE OF MIND and CINEMADROME www.cinemadrome.yuku.com. His films include the screenplays for the web series RETURN OF THE BLOODSUCKING NAZI ZOMBIES, the short feature ZOMBIE 2024