Some Spanish Classic Horror Flicks on new Kino-Cult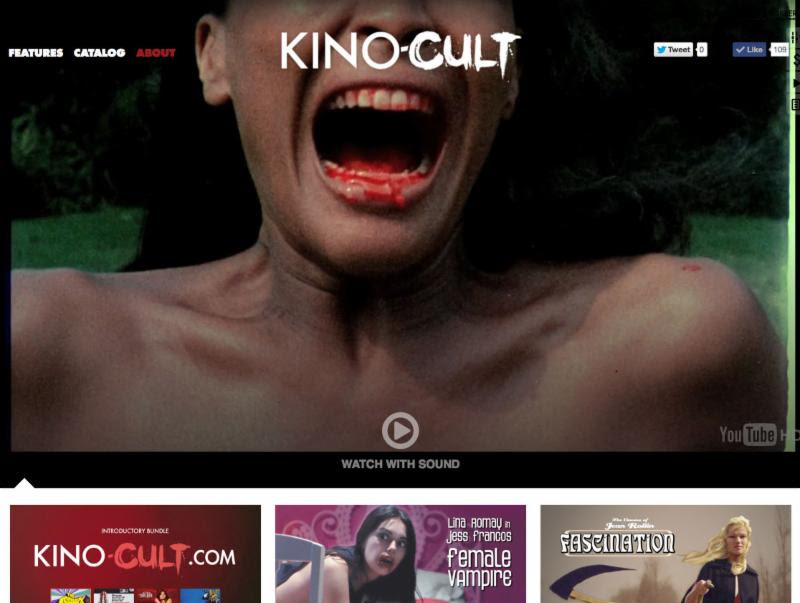 Kino Lorber and VHX to Launch Kino-Cult at Comic-Con, All-New Cult Movie Site and Online Destination for the Best in Cult Cinema
F
rom Kino Lorber's curated collection, cult favorite films with new HD masters by Mario Bava, Jess Franco, Alain Robbe-Grillet, Jean Rollin, Curtis Harrington and others now available at Kino-Cult.com for instant streaming and download.
NEW YORK, NY – 

OCTOBER 9, 2014

 – Kino Lorber, at Comic-Con 2014, announces a collaboration with VHX to launch Kino-Cult.com, a new platform that allows genre fans the chance to watch their favorite cult classics from the extensive library of Kino Lorber, available for instant streaming and download in the highest possible quality.
Kino-Cult.com offers newly-mastered HD editions of recent and vintage films from genre auteurs including Mario Bava (Hatchet for the Honeymoon), Jess Franco (The Iron Rose), Alain Robbe-Grillet (Trans-Europe-Express), and showcasing such stars as Dennis Hopper (Night Tide), Peter Cushing (Blood Beast Terror), and Christopher Lee (The Whip and the Body).
For a limited time Kino-Cult.com is offering an introductory bundle of four films for just $9.99: the British gothic horror film The Asphyx, Mario Bava's Hatchet for the Honeymoon, Jean Rollin's The Iron Rose and Curtis Harrington's Night Tide.
VHX CEO Jamie Wilkinson said, "We're excited to help Kino Lorber bring their vast catalog of cult and horror films together under one banner and sell them straight fromKino-Cult.com. It's a great opportunity for Kino to connect directly with their audience and we're proud that VHX is their platform of choice."
Kino Lorber President Richard Lorber added, "We've worked with VHX on a variety of projects, but this one is an exceptional opportunity to bring our cult audience closer to the films they enjoy. These titles were previously unavailable, and VHX's technology allows audiences to watch from anywhere. We're also looking forward to our first visit to Comic-Con as a chance to connect with the many fans of our films."