TWO UNDERCOVER ANGELS is now available on Erotic Movie House!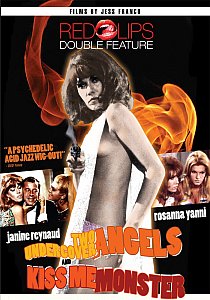 A PSYCHEDELIC ACID JAZZ WIG-OUT!
Blue Underground proudly presents these psychedelic spy spoofs featuring the bold and beautiful detective duo The Red Lips! In TWO UNDERCOVER ANGELS, the sultry super-sleuths stumble upon a slew of murdered models, actresses and exotic dancers – all of whom appear in the work of a perverted pop artist. If he and his shaggy henchman are turning buxom beauties into art brut, can The Red Lips stop him before one of them becomes his next objet d'art? Then KISS ME, MONSTER finds the girls moonlighting on a striptease world tour – but no sooner do they hit the stage than the girls are up to their pasties in stiffs, Satanists and Sapphic sadists, all after a secret formula for human clones! But if The Red Lips can get to it first, will they still be able to survive the dangers lurking around every corner?
Director Jess Franco (SADOMANIA, 99 WOMEN) combines hedonistic fantasy with subversive wit in these sizzling thrillers showcasing the cheesecake charms of Janine Reynaud (SUCCUBUS) and Rosanna Yanni (COUNT DRACULA'S GREAT LOVE). Both films have been remastered from original vault elements and look better than ever!

More information here:http://eroticmoviehouse.com/movie/two-undercover-angels-movie