Frankenstein's Bloody Terror in 3-D and Dracula vs. Frankenstein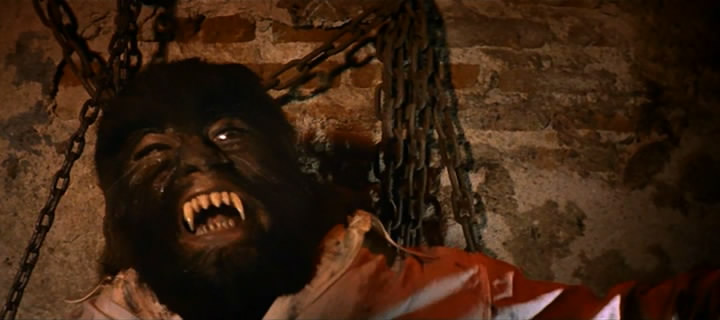 Evet: https://www.facebook.com/events/269163990269274/?active_tab=about
Horror fans rejoice! One of the "holy grails" of cult cinema, presumed lost forever, has been unearthed and is heading back to the big screen for the first time in nearly fifty years. Exhumed Films and Lightbox Film Center, in association with Garagehouse Pictures, are proud to present a new 35mm print of FRANKENSTEIN'S BLOODY TERROR in 3-D!
The story behind FRANKENSTEIN'S BLOODY TERROR is legendary: in 1971, famed film producer Samuel Sherman's Independent-International Pictures secured theatrical rights to distribute the Spanish werewolf movie MARK OF THE WOLFMAN — first in the long-running series of "El Hombre Lobo" films featuring Euro-horror superstar Paul Naschy — in the United States. Sherman also infamously retitled the movie FRANKENSTEIN'S BLOODY TERROR despite the fact that neither Dr. Frankenstein nor his monster actually appears in the film! FRANKENSTEIN'S BLOODY TERROR was enjoying a successful theatrical run in the states when distributor Samuel Sherman learned that the film was originally shot in 3-D, so he decided to strike up some 3-D prints for release in the U.S. The new version opened on a handful of Los Angeles screens, but difficulties with the projection lenses prompted Sherman to pull the screenings after a brief run. While the flat version of FRANKENSTEIN'S BLOODY TERROR continued to play drive-ins for years to come and eventually became a staple of TV "Creature Feature" programs, the 3-D prints of the movie vanished entirely and the stereoscopic version passed into legend.
Now, nearly half a century later, this faux Frankenstein favorite is finally being resurrected: though long assumed to be lost or destroyed, a search of the Independent International archives has turned up the original 3-D elements; a new 35mm print has been struck by Garagehouse Pictures and it will soon be touring the United States. Using state-of-the-art 3-D viewers and technology, audiences are finally able to view FRANKENSTEIN'S BLOODY TERROR as originally intended! Please join Exhumed as we present the Philadelphia premiere of this cult classic!
Samuel Sherman, legendary drive-in movie producer, director and president of Independent-International Pictures, will be in attendance to introduce the film.
FRANKENSTEIN'S BLOODY TERROR 3-D
1971 / 35mm / Dir. Enrique L. Eguiluz / 78 minutes
When a pair of gypsy grave robbers remove a silver cross from the corpse of Count Wolfstein, the long-dead lycanthrope is resurrected and goes on a murderous rampage. In the process, the monster attacks the handsome young nobleman Waldemar Daninsky (Paul Naschy, in the role that would make him famous), who is now likewise doomed to become a beast when the moon is full. In order to escape the werewolf curse, Waldemar turns to a mysterious doctor and his wife, but the suspicious pair possess a shocking secret and ulterior motives that could mean damnation for Waldemar and death for the woman he loves! Here presented in its original 3-D format, FRANKENSTEIN'S BLOODY TERROR is a thrilling monster mash-up and a pioneering entry in the realm of European horror cinema.
As a bonus for our audience, we will also be showing a second freaky Franken-feature:
DRACULA VS. FRANKENSTEIN
1971 / 35mm / Dir. Al Adamson / 91 minutes
Also produced by Samuel Sherman and released the same year as FRANKENSTEIN'S BLOODY TERROR, DRACULA VS. FRANKENSTEIN is notorious for many reasons. First of all, this is the movie responsible for FRANKENSTEIN'S BLOODY TERROR's incongruous title change: when Sherman could not get the film released in time to meet booking obligations, he substituted MARK OF THE WOLFMAN—retitled as FRANKENSTEIN'S BLOODY TERROR—to fulfill the promise of a new "Frankenstein" movie for theaters! (The two films would eventually play together frequently on theatrical double bills throughout the 1970's.) DRACULA VS. FRANKENSTEIN is also remembered for featuring the final performances of two actors from the golden age of horror, Lon Chaney Jr. and J. Carrol Naish, who sadly seem infirm instead of intimidating. (Indeed, Chaney would be dead before the film's eventual release.) And then there's the casting of Zandor Vorkov as Count Dracula, who looks less Lugosi or Lee and more like a vampiric Gabe Kaplan from "Welcome Back Kotter." These issues and more contribute to the infamy of DRACULA VS. FRANKENSTEIN, which concerns Dr. Durray (Naish), a mad scienti st who is busy experimenting on teenagers he traps at a local carnival with the assistance of his mute, brute assistant (Chaney). Durray is soon approached by Count Dracula, as the vampire lord needs his help to resurrect the original Frankenstein monster. It is not long, however, before the mighty monsters have a personality clash that leads to an epic (?) battle of the behemoths!