BEST OF 2017: SPANISH FEAR FAMILY & FRIENDS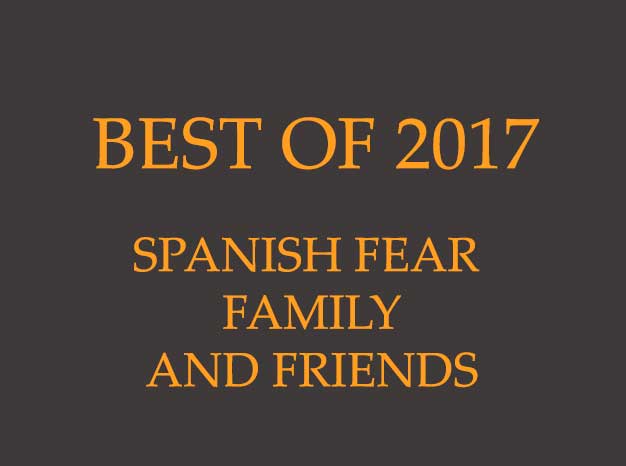 2017 is almost over and once again we asked our friends and collaborators for their top5! And here you have thir lists!!!! (In not particular order)
The Shape of Water
The Disaster Artist
Thor Ragnarok
Logan
Blade Runner 2049
1. A GHOST STORY
2. LA LA LAND
3. VERANO 1993
4. DETROIT
5. BLADE RUNNER 2049
. The Disaster Artist
. Coco
. Murder on the Orient Express
. Get Out
. Lumiêre!
1. Logan.
2. Baby driver.
3.War for the Planet of the Apes
4. Herederos de la bestia.(Documentary)
5. El bueno,la bomba y el malo.(Documentary)
5. Split  by M. Night Shyamalan.
4. Raw  by Julia Ducournau .
3. A ghost story by David Lowery.
2. La tortue rouge  by Michael Dudok de Wit.
1. La La Land by Damien Chazelle.
Cesar del Alamo (Director: ME, BUENAS NOCHES DIJO LA SEÑORITA PÁJARO)
1 La La Land
2 It
3 Verónica
4 El Bar
5 Logan
Runner-ups:  Kong: Skull Island and Colossal
1. Guardians of the Galaxy 2
2. Get Out
3. Murder on the Orient Express
4. Baby Driver
5. Wonder Woman
BLADE RUNNER 2049
MOTHER
ATOMIC BLONDE
WAR FOR THE PLANET OF THE APES
GET OUT
A cure for Wellness
The Void
The Evil Within
Get Out
Verónica
Veronica
Colossal
Get out
Bomb Scared (Fe de Etarras)
Okja
Get Out
The Love Witch
68 Kill
Low Life
It.
Ruben (SPASMO, SPANISHFEAR.COM COLLABORATOR, LA MANO FEST)
War for the Planet of the Apes
It
Get Out
Life
Stranger Things 2
The Killing of a Sacred Deer
You Were Never Really Here
Veronica.
El bar.
The Nilo Hilton incident.
Diego Arjona (Comedian and director: THALION LT.)
1.- The Disaster Artist
2.- Justice League
3.- Kong: Skull Island
4.-Split
5.- War for the Planet of the Apes
6.-Blade Runner 2049
1. Mother! – Darren Aronofsky's blistering, allegorical mindwarp of a movie wants to harm its audience and it did and it does. A brilliant piece of art that somehow made it into the multiplex. Not for all tastes. But I worshiped it.
2. Three Billboards Outside of Ebbing, Missouri – Martin McDonagh's multi-character small-town Gothic is a vessel to deliver one of Frances McDormand's most startling performances. She's aided by rock-solid support from Woody Harrelson, Sam Rockwell and Peter Dinklage among others. What a film. Never does what you expect it to and God bless McDonagh for that.
3. Get Out – Jordan Peele's first genre film is every inch a masterpiece. Perhaps the most paranoid mainstream horror movie I've ever seen and a meticulously constructed balance of dread and satire, with beautiful performances, layered characters and a secret primal scream of social rage. This one will last the ages.
4. The Beguilled – Sophia Coppola is one of the greatest director's alive and her revisit of the Don Siegel/ Clint Eastwood civil war horror/drama is superb. All dread and told from the female point of view, which adds a darker, richer tone to the narrative. A beautiful movie to watch too and both Colin Farrell and Nicole Kidman are mesmerizing.
5. The Killing of a Sacred Deer – Kidman and Farrell hook up again on screen for this, one of the strangest and most upsetting abstract horror movies I have ever seen. I cannot shake this one. I likely never will. Dying to see it again. And again.
Hector Caño (Illustrator)
Logan ★★★★★
Life (Vida) ★★★★★
Alien: Covenant ★★★
Spider-Man: Homecoming ★★★
It (Eso) ★★★
Special Mention … David Lynch: The Art Life ★★★★★
– IT
– Verónica
– Get Out
– Life
– La piel fría
Angel Agudo (Writer and director)
1.- The Babysitter
2.- Colossal
3.- Verónica
4.- Split
5.- A Ghost Story
Koldo Serra (Director: BOSQUE DE SOMBRAS, GUERNIKA)
Mother!
The Lost City of Z
A Ghost Story
Brawl in the Cell Block 99
River (serie)
+
The Night Of (Serie)
1.- The Evil Within
2.- Brawl in Cell Block 99
3.- Jupiter's Moon
4.- Brimstone
5.- El cielo en el infierno / Errementari
Diego Lopez (Director: HEREDEROS DE LA BESTIA; Brigaddon  at Sitges; EL Buque Maldito Fanzine)
1) "Laissez Bronzer les Cadavres" (Hélène Cattet & Bruno Forzani)
2) "Verónica" (Paco Plaza)
3) "El bar" (Álex de la Iglesia)
4) "Mother!" (Darren Aronofsky)
5) "Hagazussa" (Lukas Feigelfeld) / "November" (Rainer Sarnet)
Manuel Ortega Lasaga (Director: DIENTES DE OTRO)
It – Andrés Muschietti
Déjame salir – Jordan Peele
A ghost Story – David Lowery
War for the Planet of the Apes – Matt Reeves
The Void – Jeremy Gillespie, Steven Kostanski
Bonus track: Jeepers Creepers 3 – Victor Salva