Short of the month: Don't Look There
By Rubén Íñiguez Pérez (*)
Daniel Romero from Madrid is one of the most promising in the current fantasy outlook. He is the author of some short movies, highlighting Fearful John, his most acclaimed work in fests, and Don't Loook There, the one we are talking about, which has been around the world thanks to all its selections and awards in fests such as SIFF (Seattle International Film Festival), Molins de Rei and WorldFest in Houston.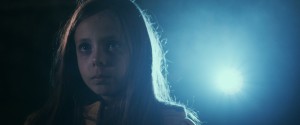 Don't Look There shows love to the genre and at the same time it disturbs in a non conventional way. Apparently, we are in front of the typical ghost tale, but actually, it is a simple story handled by a narrator whose main purpose is trapping the audience with beautiful shots and a atmosphere, not with easy frights so common in nowadays ghost stories. There are no absurd camera movements and no strident noises. The director wants us to enjoy the cinematography and unhurried rhythm at the same time he keeps you in tension.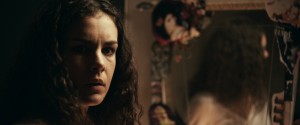 It is that well made atmosphere, together with an outstanding work in cinematography, art, music and the great work of the main stars what shows we are in front of a piece made with care.
QUESTIONNAIRE TO DANIEL ROMERO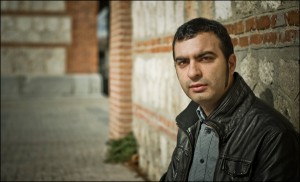 What do you think about today's Spanish fantasy and horror short movie panorama?
 I think that in Spain we have a great source of genre directors. Every year there is an amazing crop of horror short movies, works that succeed not only in festivals here but also in international competitions. You only have to take a look to the latest Meliès d' Argent record books to realise how well- considered our cinema is abroad: the percentage of Spanish short movies that won is overwhelming. I think that in Europe, generally speaking, we are living a golden age talking about this kind of cinema. I hope that means that in the following years the European industry will be more interested in the production of fantastic feature films, the same it was done in the 60s and 70s.
 Is it difficult to get a short movie like Don't Look There through?
 Very difficult. The problem is, normally, it is a cinema very dependent of the atmosphere, so this kind of productions are often linked to light, art direction, make-up, etc. And that means a bigger budget than the ordinary one. Don't Look There was not an expensive movie, not at all, but we wanted to take care of all and every technical detail, so we had to film for four days (I would have killed to have two more days), something that raised the costs. Nevertheless, the short looks more expensive than it really is, and that is due to the great production work by Kamel Films (Voice Over, Basket Bronx) and Harmonica Films (8, Mr. Dentonn), the production companies, and also our technical crew, who are a gem. After that short we learnt that the key to get through a project like this one is patience, a good financial plan and pre-production. Most of extra expenses when you are making a short come from hurries and lack of organization. Looking for funds was a torture but the result was worth.
Apart from what it is told in the short, we love the fantastic technical and artistic work. What is working with Daniel Romero behind the camera like?
 The merits of the success of the short movie are, as you have said, in the great work made by the technical and artistic crew. We emphasized all the departments. We had meetings about music and sound design even before the shooting, we tested the cameras, the make-up effects, we worked hard on location scouting… One of the processes I like the most is looking for the movie aesthetics. Jose Martín Rosete, cinematography director, did a great job choosing the atmospheres and I can see the researching work we did before filming. What I want to say is that there weren't surprises in the making, everything was planned. One of the things most proud I am of is the work with the actors. I am not able to imagine this short without these actors. We rehearsed a lot and we worked on their relationships in and out of the camera.
Johnatan D. Mellor (REC2), one of the most popular faces in the Spanish short movie scene, is part of your film, what can you tell us about him?
 Jonathan and Maru Valdivieso had worked together before with Paco Plaza, Maru is in Romasanta and it is the main star in Cuento de Navidad. We didn't notice till we started the rehearsals and we thought it was an amazing sign. Jonathan started in the project recommended by Jose Martín Rosete, who he was with in the shooting of VoiceOver, former short of my producers, and winners of the latest Mèliés d' Or. He has a small role in the short, but he is important in the story. Actually he had a bad time because he had to bear a marathon make-up session, but he behaved as the professional he is.
Any anecdote from the shooting?
A lot. The shooting in the flat was a hell. We were shooting in a humble flat in Madrid outskirts, and a crew of over 25 people came into it for a whole weekend, not taking into account preparation time that took more than a week. Not even a knife could fit inside! Every time we had to go into the set we had to jump over some people! Sergy Moreno, the director assistant, did a great job organising the teams. The combo was in a tiny room and we were crowded, surrounded by boxes, tripods and props. It was really funny indeed! Shooting outdoors was also hard. The night we filmed the wood scenes it was -5Cº… Sandra and Celine did a great job hanging in there.
 In SPANISHFEAR.COM we are fans of Fearful John, what does its director think about it?
 I loved it. It is the short which has made me happier. It was selected in almost 150 festivals (Sitges, Los Ángeles), it was bought by Fearnet, Mediaset… It was really good. It was made 5 years ago and I am still getting comments and opinions about it almost every week on Internet. I would change many things now if I filmed it again, but it keeps working really well.
What are you working on now?
 I have lots of open ways. These days I am finishing the screenplay of what I hope will be my next short movie. It is provisionally called Carla and it has been co-written with Rubin Stein, director of one of my favourite shorts from this year: Tin&Tina. It is also an urban horror story, placed in cold and night places. Female characters are again the main ones. The short is a time-bomb. I wish we could make it. On the other hand I have two projects for feature films with the screenwriters Ángel Agudo and Suda Sánchez.. One is an order and it will be great if it finally happens, but I can say no more. And the other is a project written on our own that we have not moved yet and that was born from an Ángel Agudo's idea. It is a ghost story, with a peculiar narrative structure, placed in Spain and that we want to make in English. The movie is Richard Linklater filming a remake of Poltergeist.
_____________________________________________________________________________
(*) Rubén Íñiguez Pérez is a Spanish literature scholar. He has written different articles about horror cinema for several media and he is part of the headquarters of La Mano Film Festival.