Short of the month: Till Death Do Us Part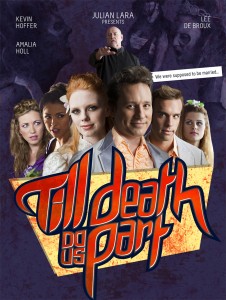 By Rubén Íñiguez Pérez
First US work for Julian Lara. The evolution cannot be denied if we compare this short with the one he did before. Undoubtedly this is his best movie so far. It is not something new but it does not pretend to be that, the only thing the director wants is to entertain and it achives its goal.
Good FX, suitable direction but it could be improved, I'm sure it will be better in following projects, and above all, it should be pointed  the good work in cinematography done by Jon Aguirresarobe. A simple screenplay, a plot with no complications, which mixes funny scenes similar to Animal House ones, without forgetting some tributed to the 80s, together with blood, zombies and sunny ways of killing the undead.
It can be watched here: http://vimeo.com/42268472
_____________________________________________________________________________
Rubén Íñiguez Pérez is a Spanish literature scholar. He has written different articles about horror cinema for several media and he is part of the headquarters of La Mano Film Festival.