USA: PIECES BLU-RAY RELEASE PARTY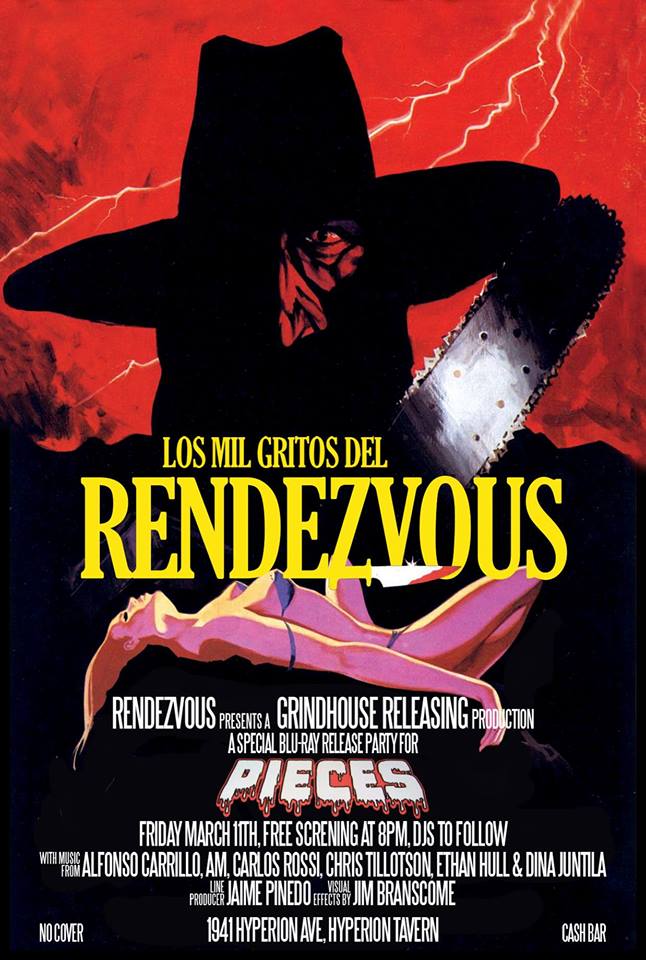 FROM RENDEZVOUS:
Dearest friends, please join us and our pals from Grindhouse Releasing as we celebrate their beautiful new blu-ray release of Juan Piquer Simon's classic 80's slasher PIECES! In typical RENDEZVOUS fashion, we will have LOTS of surprises and exclusives on hand…all to be announced! Immediately following the film, the RENDEZVOUS crew (and guests!) will be spinning all sorts of soundtrack and library goodness, including selections from the PIECES OST featuring music from Fabio Frizzi, Carlo Cordio, Stelvio Cipriani, et al. We will also be giving away TWO vinyl copies of the soundtrack, courtesy of the good folks over at Two Headed Dog (www.twoheadeddog.com)!! Finally, last but DEFINITELY not least, our resident RENDEZVOUS film archivist, Jim Branscome, will be screening a specially crafted highlight reel showcasing an array of 80's slasher goodness. We are expecting this to be one of our busiest events to date, so early arrival is STRONGLY encouraged! See you there!!
————–
$5 Beers. Cash only. FREE entry.
Come early for FREE buttons, CD-R's, zines, etc. (while supplies last)
Severin Films, Mondo Macabro, Grindhouse Releasing, and Diabolik DVD merch for sale!!
8PM – Juan Piquer Simon's PIECES (USA/Spain/Puerto Rico, 1982)
DJ's immediately following the film (approximately 9:45PM)
Special guest DJ's:
+UMBERTO (Death Waltz Recording Co., Rock Action, Not Not Fun) [umberto.bandcamp.com]
+DJ Quiz Kid Donnie Smith (LA)
+ more TBA
Resident DJ's:
Alfonso Carrillo
AM
Carlos Rossi
Dina Juntila
Chris Tillotson
Ethan Hull
Resident film librarian and visual effects by: Jim Branscome
Line producer & accounting by: Jaime Pinedo
**Sponsored by Severin Films, Distribpix Inc, Mondo Macabro, Grindhouse Releasing, Diabolik DVD, Death Waltz Recording Company, Finders Keepers Records, & Four Flies Records
Further information here: https://www.facebook.com/events/1697081730505123/