DVD: LA ORGÍA DE LOS MUERTOS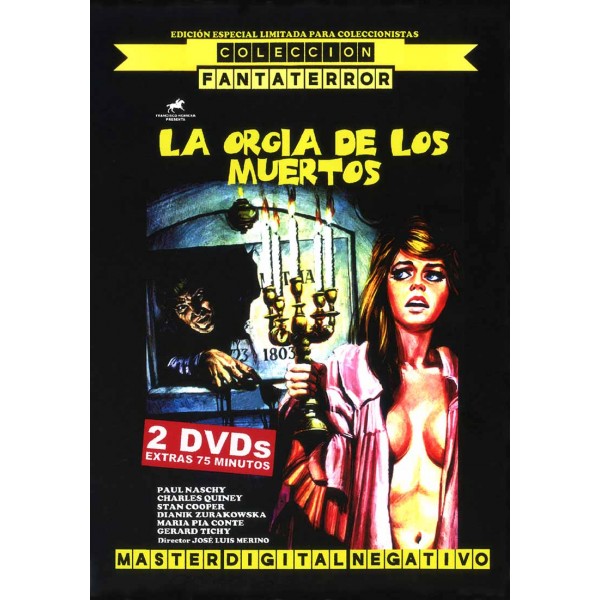 Coleccionismo cinematrográfico is releasing this Jose Luis Merino Cult movie in a special edition. Due to the rarity of the tape I talked to them and I was assured this is not a bootleg but an official product by Francisco Herrera distribution company (http://fhcinevideotv.com/). The movie is also known as The Hanging Woman (title from the video release), Beyond the Living Dead, Return of the Zombies and Terror of the Living Dead.
Plot: Serge Chekov inherits his uncle's estate, only to discover that Professor Droila, a mad scientist, has taken residence in the basement. As Chekov investigates further, he learns that Droila is reanimating the dead with the help of a necrophiliac grave robber by the name of Igor. In the end, Droila's zombies rise against him.
Main stars: Stelvio Rosi , Dyanik Zurakowska , Paul Naschy , Gérard Tichy , Maria Pia Conte and Carlos Quiney
This special edition, limited to 500 copies,  has 2 discs including:
Two-sided cover
Original movies: sound and image restored
Documentary about the film
Deleted scenes from the US version
American trailer
Several tributes to the actors and crew
Trailers for upcoming films on DVD and the company catalog
Format 16/9. ONLY AVAILABLE IN SPANISH LANGUAGE.
Orders and further information here:http://www.coleccionismocinematografico.com/648-la-orgia-de-los-muertos-edicion-oficial-especial-2-dvds-limitada-para-coleccionistas-paul-naschy.html