DVD RELEASE: WEREWOLF IN THE AMAZON COLLECTION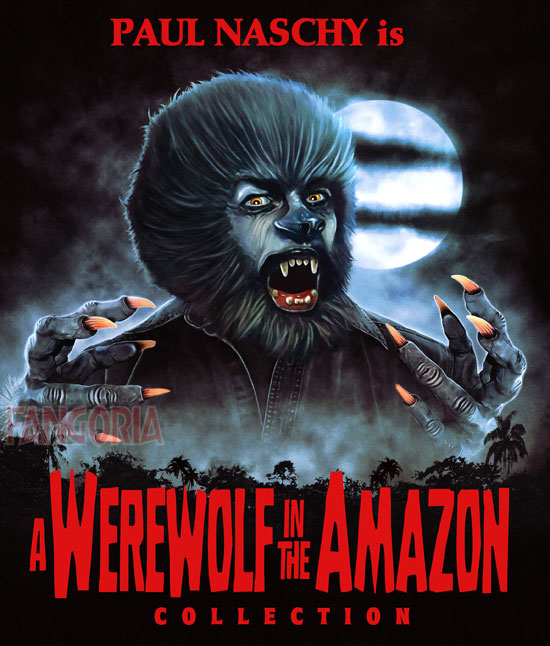 According to a Fangoria  exclusive a collection of long-sought-after fright features from Brazilian filmmaker Ivan Cardoso is coming to DVD and digital for the first time.
Camp Motion Pictureswill release A WEREWOLF IN THE AMAZON COLLECTION October 4. The three-disc set will contain four features by Cardoso and the "cine-autobiography" A MARCO DO TERRIR (THE MARK OF TERRIR), representing the first time Cardoso's work has been released in North America and its first time in digital formats. The features, remastered from the only existing elements, are:
• A WEREWOLF IN THE AMAZON (2005), starring Spanish icon Paul Naschy: In search of a powerful hallucinogen, five friends embark on a dangerous journey deep into the Amazon. But a bad trip isn't the only threat, as they discover when they stumble across the hidden camp of the crazed Dr. Moreau and his murderous animal-human hybrid creations!
• THE SCARLET SCORPION (1990): When the ultra-villainous Scarlet Scorpion kidnaps a famous fashion designer, crimefighting millionaire playboy The Angel must step in to save the day.
• THE SEVEN VAMPIRES (1986): As a botanist researches a dangerous carnivorous plant, a bumbling detective and his assistant investigate a plague of mysterious "vampire" attacks surrounding a sexy upscale nightclub.
• THE SECRET OF THE MUMMY (1982): Death stalks those who search for the tomb of Runamb, the mummy. Undeterred, Professor Expedito Vitus acquires all eight pieces of the map, invests the mummy with new life and unleashes a murderous rampage!
THE MARK OF TERRIR is described as Cardoso's "cine-autobiography by way of an inspired found/remembered footage," and includes Cardoso's seminal 16mm short NOSTERATU IN BRAZIL and his experimental featurette O SARCOFAGO MACABRO. A mini-poster of the new illustration commissioned for the release will be included, along with new liner notes by Justine Smith, film critic and co-host of Sound on Sight. Retail price is $24.99.