Full contents for FANGORIA #339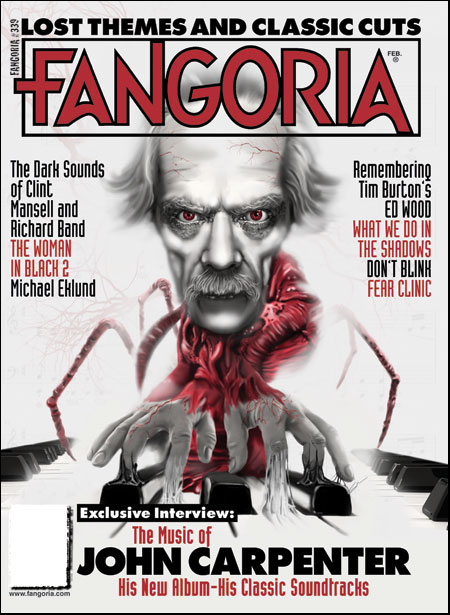 GUTS
MINIFEATURE: THE 2014 ITALIAN HORROR FEST Last year's event celebrated fear from within and outside its home country.
RETROSPECTIVE: "MESSIAH OF EVIL," PART TWO Offscreen influences couldn't prevent this cult flick from rising from the dead.
INTERVIEWS: "THE WOMAN IN BLACK 2 ANGEL OF DEATH" The specter of the hit original was a lot to live up to for the sequel-makers.
PREVIEW: "WHAT WE DO IN THE SHADOWS" Jemaine Clement and Taika Waititi reveal how much fun it can be to live with vampires.
PREVIEW: "THE ATTICUS INSTITUTE" The government can't contain a paranormal possession in Chris ("Buried") Sparling's film.
PREVIEW: "FEAR CLINIC" Robert Englund brings his dreadside manner to Robert Hall's feature expansion of his web series.
INTERVIEW: MICHAEL EKLUND He's the man to "Call" if you're looking for an actor to plumb "Dark" emotions.
INTERVIEW: LISA AND LOUISE BURNS With just a few (simultaneously spoken) words, they stole "The Shining."
RETROSPECTIVE: "ED WOOD" Who'd have thought the "Worst Director" would be the best subject? Screenwriters Scott Alexander and Larry Karaszewski did.
INTERVIEW: JOHN CARPENTER As his first solo album arrives, we talk in depth with the Master of Horror about his music. Plus: "Lost Themes" reviewed.
MINIFEATURE: JAKE FREEMAN He's a "Protector" of the synthesized faith as he moves into movies.
INTERVIEW: RICHARD BAND His score for Dan O'Bannon's second and last directorial venture deserves to be "Resurrected."
INTERVIEW: CLINT MANSELL Darren Aronofsky's singular, scary cinema wouldn't be the same without this composer's aural accompaniment.
MINIFEATURE: TWIZTID In their 14th year making menacing music, the duo continue bringing the "Darkness."
MINIFEATURE: "THE PICTURE OF DORIAN GRAY" The Oscar-winning film now looks better than ever on Blu-ray.
INTERVIEW: NICHOLAS VINCE Out from behind his "Hellraiser" makeup, he has made his mark as an author.
MINIFEATURE: WILLIAM MORTENSEN New and reissued books reveal a vintage photographer with a uniquely dark vision.
DIARY OF THE DEB: "MODEL HUNGER," PART THREE As Debbie continued to shoot, a troublesome visitor threatened to "Driver" mad.
NOTES FROM THE UNDERGROUND: "HELL FIRE" Ladies of the night meet the son of Satan, and Marc Fratto was the referee.
INTERVIEW: BRADEN CROFT "Feed the Gods" and "Hemorrhage" mark the Canadian filmmaker as an unconventional talent.
INTERVIEW: ZACK WARD "Don't Blink" in the face of adversity, says the actor turned producer.
FEATURE: "SCARY STORIES TO TELL IN THE DARK" Among the legions of kids these books spooked were some fright filmmakers to be.
GRAVY
FIRST RITES Music to their fears
POSTAL ZONE Defending the "Dead"
MONSTER INVASION Previews of "The Scarehouse" and "The Casebook of Eddie Brewer," plus the 2015 FANGORIA Chainsaw Awards ballot!
THE VIDEO EYE OF DR. CYCLOPS Reviews of "Lord of Illusions," "Christmas Evil," "Wicked, Wicked" and others
DUMP BIN DIARIES CFS Releasing's "The Boggy Creek Legacy Collection"