Full Moon/Wizard Studios announces the DVD release of WAX and Halloween streaming!!!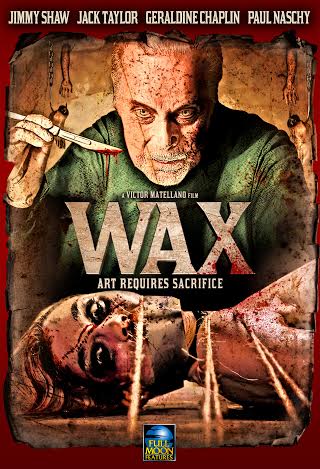 Full Moon/Wizard Studios announces the DVD release of WAX, an essential movie in order to understand Spanish Horror. WAX blends traditional gothic atmosphere with contemporary found footage shock and sports plenty of gruesome, gory violence and more than one serpentine plot twist. The distribution company highlights the names of genre legends such as Jack Taylor (Jess Franco's SUCCUBUS and FEMALE VAMPIRE, THE VAMPIRE'S NIGHT ORGY), Geraldine Chaplin (THE WOLFMAN), Lone Fleming (TOMBS OF THE BLIND DEAD) and Naschy himself, whose voice comes from an automaton, that are part of a feature film that pays tribute to all time horror.
Wax tells the story of a young journalist (Jimmy Shaw) locked in a wax museum for a whole night. He is being stalked by a cannibal murderer who likes dressing up like Vincent Price in House of Wax and records snuffs movies full of tortures that go beyond imagination.
Colin Arthur (The Neverending Story) is the one responsible of the FX, Yvonne Blake (Superman) is the one is chare of costume design for Dr. Knox, and the illustrator Alfonso Azpiri (ROJO SANGRE) made the pictures for the credits.
It is Víctor Matellano's first feature film (CLAWING!), who nowadays is working on the postproduction of VAMPYRES, a new look at Larraz's cult movie, which screenplay was written by Larraz himself and which main stars are Caroline Munro, Christian Stamm, Veronica P. Bacorn, Luis Hacha and Lone Fleming among others.
WAX will have an EXCLUSIVE premiere at www.FullMoonStreaming.com for Halloween!! And it will be released in North America on DVD in December with other video platforms TBD.
At the same time the movie will be at different film festivals in countries such as Mexico or U.S.A.