Latest news about Sitges Festival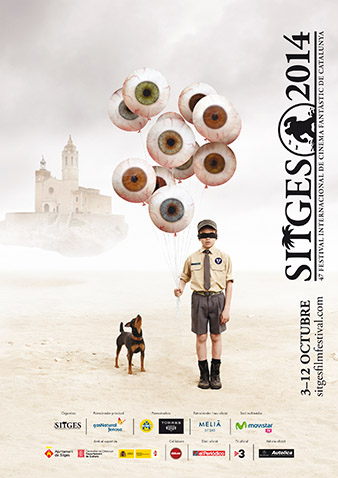 This seasons hottest horror movies will be at Sitges
The 47th Sitges Film Festival, to be held from 3 to 12 October, will be loaded with films that are all eagerly-awaited by fantastic and, especially, horror genre film lovers. That's what Festival Director Àngel Sala announced during his conversation with fans at the Fàbrica Moritz Brewery in Barcelona. Sala revealed the names of a good handful of new films that will be included in Sitges 2014's extensive lineup.
Supernatural horror will carry an important weight this year, with excellent examples of haunted house movies and others with sinister presences arriving from the other side of the planet, like Gerard Johnstone's Housebound, from New Zealand; or the Australian The Babadook, by Jennifer Kent. Another genre example, Nicholas McCarthy's Home, can also be seen at the Festival. Ivan Kavanagh's The Canal closes this quartet of films that will have moviegoers jumping out of their seats with their demonic apparitions.
But at Sitges 2014 there will also be room for films treating genre from a more comical, madcap viewpoint, as in the case of Tommy Wirkola's Dead Snow 2, where the only survivor from part one will have to fight an even larger army of zombies. Two other good doses of zombies are also guaranteed with Goal of the Dead and Zombeavers, films offering unfeasible blends of zombies with soccer and beavers, respectively. The first is a dual movie (two 70 minute parts), directed by Benjamin Rocher and Thierry Poiraud; the second is based on the well-known premise of "group of young men & women, vacation, fun, alcohol and sex" that becomes a blood fest. And still in a comical tone, the Festival will be presenting Dan Beers' Premature, the story of a high school student who has to re-live losing his virginity over and over again like a zany twist on Groundhog Day.
Added to the numerous Asian productions the Festival has already confirmed for this year is Live, from the director of Dead Sushi, Noboru Iguchi. A survival thriller based on a novel by Yusuke Yamada. Arriving from Germany is Der Samurai, a dark, ambiguous film that has been described as a queer thriller, directed by Till Kleinert and financed through crowdfunding. The last of our titles confirmed yesterday is The Curse of Downers Grove, a movie about the murders of a series of teens attributed to a bizarre curse, directed by Derick Martini and co-written by novelist Brett Easton Ellis, author of American Psycho, the film version of which opened Sitges 2000.
Àngel Sala also revealed two documentaries that will be at this year's Festival. The first is Doc of the Dead, a film that has been defined as "the definitive zombie culture documentary". Directed by Alexander O. Philippe (The People Versus George Lucas and The Life and Times of Paul the Psychic Octopus) and including the participation of Alex Cox, Simon Pegg, George A. Romero or Steven Scholzman, this piece analyzes how the zombie phenomenon has been popularized in recent years in all kinds of different fields, like literature, series or even fashion. The second confirmed documentary is Elijah Drenner's That Guy Dick Miller, dedicated to an aspiring writer turned accidental actor, and whose face everyone knows, whose name is known by few. Sharing the screen with leading figures like Nicholson, De Niro, Schwarzenegger or The Ramones, he has worked with great directors like Scorsese, Corman, Fuller, Dante, Cameron, Demme and many more.
And at Sitges 2014, there will be no shortage of classics either. The Festival has confirmed the screening of Sorcerer, William Friedkin's 1977 movie, a remakeof H.G Clouzot's The Wages of Fear, (1953), starring Roy Scheider, Bruno Cremer, and Francisco Rabal.
These new Festival incorporations have been added to the lineup of an edition that will be opening with Jaume Balagueró's REC4: Apocalypse, that will be presenting its Grand Honorary Award to Roland Emmerich and that will be including the presentations of the latest productions from important directors like Jean-Luc Godard, David Cronenberg, Kim-ki Duk and Takashi Miike.
Sitges 2014 revs its engines with outdoor short films
The Festival has programmed two nights of short films in August, to start revving its engines for Sitges 2014. The Sitges – Aiguadolç Marina and the local Municipal Swimming Pool will be holding two mini-marathons on 2 and 8 August, respectively, which will be a summer prologue to the upcoming Festival.
The two screenings include eight and seven different shorts, and will each have a total runtime of approximately an hour and a half. In both cases, some of the filmmakers will be attending to present their pieces. Admission is free for both screenings.
Saturday 2 August. Auditori del Mar (At the end of Port de Llevant in the Marina). 23:00
Curvas, by David Galán. A man drives his car down a deserted road. 6 minutes
El último onvre bibo, by Daniel Aguirre & Luna Martín. Minimalist, epic story that tells the adventures of being at the home of the last human being alive on Earth. 9 minutes.
La sed animal, by Rafa Dengrá. The Navy and Rafa investigate the filming of a strange exorcism ritual back in 1956. 13 minutes.
Elixir, by Javier Lozano. A humble tailor and his wife are dealt a tough blow when they lose the baby they're expecting. A visit from a man with a strange, miraculous potion will inevitably mark the tailor's fate. 12 minutes.
Timothy, by Marc Martínez. Simon is a boy who has to put up with Sonia, his nanny, annoying him. One night, Simon receives an unexpected visit… 10 minutes
El martillo de las brujas, by Sol Charlotte. Nina is a girl who has grown up listening to her parent's and grandparent's advise to prevent her from falling victim to witchcraft … 6 minutes
Sinnside, by Miguel Ángel Font. A macabre tale featuring seven kids whose souls will be the main course for a group of grownups at a bizarre restaurant. 13 minutes
Sequence, by Carles Torrens. What happensif you get up one day and realize that everyone has dreamed about you? 20 minutes
Total runtime: 89 minutes
Friday 8 August. Municipal Pool (Camí de la Fita s/n). 22:00
¿Qué significan los símbolos?, by Manuel Bartual. Welcometo our time travel agency! Accompany Carlos during the guided tour of our facilities. 8 minutes.
Hambre, by Efraín Parrilla. Claudio is unemployed and spends his days with his wife Margarita watching TV. Especially gossip shows. 5 minutes.
Un día especial, by Daniel Padró. It's the happiest day inDavid's life; he's about to marry Cristina, the woman of his life. 12 minutes.
Candyhearts, by Joan Martín. A horror short that mixes fair shows, sinister traveling salesmen and children. An almost perfect combination. 15 minutes.
Zona de caza, by Jordi O. Romero. A bad day makes Maria wind up drowning her sorrows at a music bar. There she meets Nicolás, who invites her to his home in the middle of the mountains. 16 minutes.
Horizonte, by Aitor Uribarri. The world as we know it came to an end, and all that's left are its ashes. In a desperate effort to pull her family together again, Ana and her mother set out on a dangerous trip. 24 minutes.
Detuned, by Pau Carbó. One night when he returns home, Àlex is trapped by the deadly power of a network of televisions and electrical appliances. 7 minutes.
Total runtime: 87 minutes