Lone Fleming: special guest in FACES IN THE DARK #3 (DENMARK)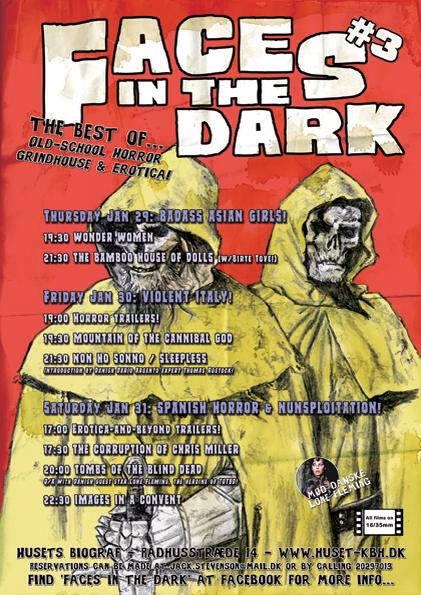 FACES IN THE DARK #3 will be rolling in Husets Cinema (Copenhagen's last grindhouse!) from the 29th – 31st January 2015!
It's with proudness they present the guest star Lone Faerch aka Lone Fleming, the heroine from TOMBS OF THE BLIND DEAD. Lone will be there for the movie and q/a!!
FACES IN THE DARK – The Best of Old-School Horror, Grindhouse & Erotica will be showing 7 films this year – all on 16/35mm, real film!
THURSDAY JAN 29: KICK-ASS WOMEN!
19:30 WONDER WOMEN
007-like actioner with a sexy all-girl army in the Philippines!
21:30 THE BAMBOO HOUSE OF DOLLS
Brutal and sleazy Hong Kong WiP starring Birte Tove!
FRIDAY JAN 30: THE NASTY ITALIANS!
19:00 Horror trailers!
19:30 MOUNTAIN OF THE CANNIBAL GOD
Sergio Martino's exotic and violent Cannibal adventure!
21:30 NON HO SONNO / SLEEPLESS
Dario Argento's great return to the thriller/giallo!
Introduction by Danish Argento expert Thomas Rostock!
SATURDAY JAN 31: SPANISH HORROR & SLEAZY NUNS!
17:00 Erotica-and-beyond trailers!
17:30 THE CORRUPTION OF CHRIS MILLER
Obscure and stylish thriller, the killer uses a scythe!
20:00 TOMBS OF THE BLIND DEAD
Zombie classic! The Blind Dead are back for a vengeance!
Q/A with Danish guest star Lone Fleming, the heroine of TOMBS!
22:30 IMAGES IN A CONVENT
Nunsploitation from sleaze maestro Joe D'Amato!
MORE INFO:
TICKET PRICING: 50kr. per film (any film on any day), or 80kr. for both films in one night on Thursday & Friday, and 100 kr. for all 3 films on Saturday. An all-festival pass is 180kr..
TICKET COUNTER counter opens an hour before first showing. We accept CASH only and have free (unnumbered) seating
RESERVATIONS can be made via jack.stevenson@mail.dk or 20297013 as a second option / no SMS