Miguel Ángel Vivas's upcoming film: Welcome to Harmony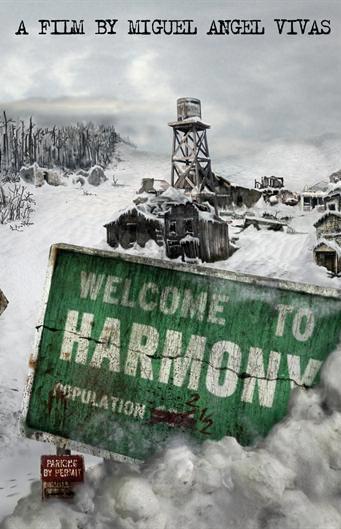 Miguel Ángel Vivas is now in post-production of his new film: WELCOME TO HARMONY, a story in which a virus turns people into zombies and a small group of survivors seek refuge in a snow covered town. It is based on the novel Y PESE A TODO by Juan de Dios Guarduño.
After several hundred thousand years of evolution and supremacy, humans were nearly wiped out from the face of the Earth. Within just a few days, humankind was devoured by an infection that turned them into savage creatures without intellect, cruel and brutal. Now, seven years after the outbreak, we find the small town of Harmony sitting in the middle of nowhere, covered by the perennial snows that took over part of the planet. Two men, long ago friends, Patrick and Jack, and Jack's daughter, Lu, are now the only survivors. However, they won't talk to or even acknowledge each other. Something terrible happened between them and a deep and unforgiving hatred ended up their friendship a long time ago. When those horrible creatures finally come back to that forgotten corner of the world, driven by their insatiable hunger and lack of human prey, will Patrick and Jack be able to join forces and get past the hatred that has existed between them for so many years in order to save their own lives?
It has been written by Vivas  and Alberto Marini.
The main stars are: Matthew Fox, Jeffrey Donovan as Jack, Ahna O'Reilly, Quinn McColgan, Alex Hafner as Lewinsky and Clara Lago.