MOLINS DE REI FILM FEST LATEST NEWS AND CONTENTS!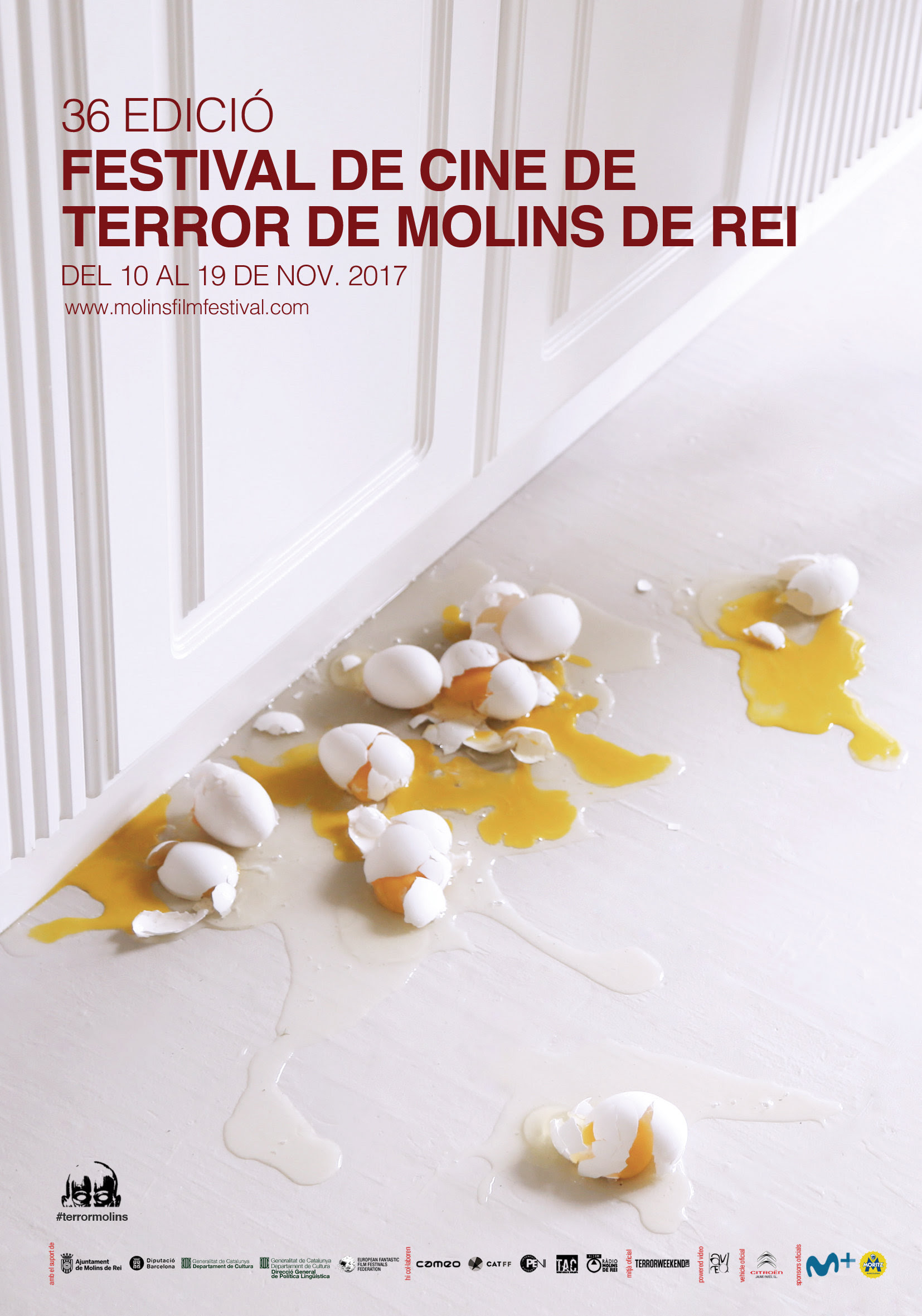 Last year, the festival focused on mutations, the year before on phobias. The 2017 edition will focus on the leitmotiv Haneke or the edge of horrorwith a clear intention of exploring the limits of horror cinema which, year after year, expand and rebuild the rules of the genre.
There is nothing more personal than evaluating the fear that someone suffers or enjoys as a member of the audience when they watch a particular film. Whehter they watch a thriller, suspense, detective or pure horror film, every viewer lives it in their own way conditioned by their personality, temper or moment perception. Everyone of us can express their own sensations in connection with a passage, a frame or a scene. That is the reason why it is so difficult to establish a sharp limit to what horror really is.
Moreover, depending on our own experiences a film can spark horrific sensations by bringing back the memory of a particular moment, experience or particular situation. Every fan of horror, the genre which we love, will have wondered at least once in their lifetime what horror is and what horror is not. That is to say, about the limits of the genre. Above all, we love horror films and there is no doubt that this debate promises to be really thrilling.
TICKETS: http://www.molinsfilmfestival.com/en/
OPENING FILM: Framed
The Festival is really happy to host the World Premiere of the film Framed, directed by Marc Martínez Jordán, which will be screened for the first time on Friday, November 10th at the Teatre de la Peni in Molins de Rei.
Framed brings together the most common classic horror-film features (with an eye on "home invasion movies") with the unstoppable rise of newest social media networks (facebook, instagram, twitter, etc). A trend that's changing the society and specially the way we relate with each other. Framed is a dark glimpse with a flavour of black humour into this excess and overuse of social media by a part of a society totally abandoned to virality.
The film has been directed by Marc Martínez Jordán, who holds a degree in Film Direction at ESCAC. His graduation project, the horror short film Timothy (2014) was in the Official Section at the Sitges Film Festival. After two years of exhibition it gathered 36 prices and around 200 national and international selections.
In 2013 he co-directed the film Los inocentes, a teenage slasher produced by Escandalo Films and made by ESCAC students. The film was in the Panorama section of the Sitges Festival, and has won selections in different festivals as well as a commercial success.
His last work, the short-film Caradecaballo, shot in black and white film, with a budget of just 20 euros and starred by he himself along with his own grandma, has been awarded more than 60 national and international prices and 250 selections. Some of the awards come from relevant festivals such as Milano Film Festival, Brussels Short Film Festival, Sitges Film Festival or Las Vegas Film Festival.
The screenplay of Framed is signed by Marc Martínez Jordán and Jaume Cuspinera, who is at present a mentor on screenplay writing for the degree projects at ESCAC and one of the developers of scripts such as Eva (Kike Maíllo, 2011) and Animals (Marçal Forés, 2012).
In his debut with this feature film, Martínez Jordan has been sponsored by director and producer Marc Carreté, who has made films like Asmodexia and After The Legacy , and who has started out the indie production label Creatures Of The Dark.
The main cast includes Àlex Maruny (Promoción Fantasma, El Club de los incomprendidos, Barcelona noche de invierno, Pulseras Vermelles), Clàudia Pons (Asmodexia, Elisa K, Desclasificats) and Joe Manjon (Risen, Megan Leavey, Según Mateo).
Further cast members are Julia Molins (Hooked Up, La Riera, Sé quien eres), Enric Auquer (Los Inocentes, Ebre del bressol a la batalla), Biel Montoro (Black Snow, L'altra Frontera), Daniel Horvath (Encouter with a Mirror,Kamikaze, Buscando el Norte), Carlus Fábrega (Los Ojos de Julia, Nit i Dia), Ramon Canals (Asmodexia), Santos Adrián (Rotten Train,The Glorious Seven), Adriana Feito (La Revolución de los Angeles, Mis Ex novias), José García (El Crack, Losers), Marina Durán (Asmodexia, El Dibuix) and Mar Serra (Nit i Dia, Asmodexia).
Framed has been also sponsored by Pep Sais (Ocho apellidos catalanes, Los Últimos días), Mercè Montalà (Secuestro, Camille) and Ann Perelló (Amor tóxico,Otel.lo).
Framed is an app that allows anyone to stream online from any mobile device with an internet connection. But since there is no control or censorship, many of its users are willing to anything for gaining as much audience as possible: beatings, rape, everything is possible on Framed. There are no limits.
Alex meets his friends on his farewell night party before leaving to Berlin. Everything is going well until three intruders attack them and force them to play ruthless and mortal games, streaming everything online with only one goal: to achieve a record audience in Framed
.
THIS YEAR MOVIES
Los olvidados, by Luciano and Nicolás Onetti
Compulsion, by Ángel González
Tragedy girls, by Tyler MacIntyre
Phoenix Forgotten, by Justin Barber
Les affamés, by Robin Aubert
Funny Games. Michael Haneke, 1997
Mayhem, by Joe Lynch
The Night Watchmen, by Mitchell Altieri
Hounds of love, by Ben Young
Downrange, by Ryuhei Kitamura
Jackals, by Kevin Greutert
Cannibals and Carpet Fitters, de James Bushe
Trauma, by Lucio A. Rojas (European premier)
Black Hollow Cage, by Sadrac González
Habit, by Simeon Halligan (Spanish premier)
Tonight she comes, by Matt Stuertz
Meatball Machine Kodoku, by Yoshihiro Nishimura
Replace, by Norbert Keil
Game of death, by Sebastien Landry and Laurence Morais-Lagace
JURY
Arno Frisch: Born in Vienna, Austria, the critically acclaimed actor made his screen debut at age 15 starring in Michael Haneke's award-winning "Benny's Video". 5 years later, his following collaboration with Haneke earned him international iconic cult status in the award-winning "Funny Games", nominated for the prestigious Cannes Palm d'Or. With over 30 film & TV credits, he was recently seen in Ruth Mader's "Life Guidance" which premiered in Competition in 2017's Venice Days.
Roser Amills: Roser is a writer and journalist from Mallorca, she has lived in Barcelona since she was seventeen. She has published a number of books many of which have sex in their main line. Some of her titles are Paraules d'Amor, confessions apassionades (Words of Love, Passionate Confessions – 2011, written with her mate Victor Amela), Les 1001 fantasies més eròtiques i salvatges de la història (The 1001 Most Erotic and Wildest fantasies ever – 2012), or the latest El ecuador de Ulises (Ulises's Ecuator – 2015) and La bachillera(2016). She's a controversial character who is always present in the social networks and we are really happy to have her with us in the 2017 edition of the Festival as a member of the jury.
Pep Prieto: He was born in Girona in 1976 and at present is very active in written press as well as radio and television programmes. His articles and reviews on cinema and TV series can be read at Diari de Girona and La Llança; he also writes articles for the Time Out magazine. We can listen to his cinema and series reviews on the Catalan leading radio station, RAC 1. Last but not least, we can also enjoy his expertise in TV series on the BTV channel. As a writer, he is the author of the novels La disfressa de l'Indigent, Mala Premsa, La Teoria de l'Imbècil, Els Llunàtics as well as the short stories book Castells Humans.
Ángel Agudo: Educated as a screenplay writer at ECAM (Escuela de Cinematografía y del Audiovisual de la Comunidad de Madrid), he is the co-writer of two feature films: Sweet Home (2011-2017), produced by Filmax, and Los prescindibles (2012-2013). He is besides writing the screenplay, he also directed the film El hombre que vio llorar a Frankenstein (2010). As a writer, in 2009 he published the book Paul Naschy: La máscara de Jacinto Molina.
Miguel Ángel Vivas: He was born in Sevilla in 1974, he obtained a degree in Information Science at Universidad Europea de Madrid and qualified for Film Direction at ECAM. His first work was Reflejos, a feature film that was awarded the Atresmedia Opera Prima award and Best Screenplay Vía Digital. After that, he has directed the short films El Hombre del Saco (2002) and I'll see you in my dreams (2003), which are precedents to the feature film Secuestrados (2010), which was given the Best Film award at Festival de Cine de Bogotá and Best Director award at Fantastic Austin, Texas.
GAMES
A selection of Spanish publishers will be present with their terrific catalogues. But don't be afraid if you are easily scared because there will be games with a great thematic range. You will find games telling stories in which you can get completely involved as it often happens in cinema. Moreover, no previous experience is required to play.
Board games have a social element which is essential and which we want to include to widen the scope of our Festival. We want to offer a new activity that makes horror and mystery available to everyone who wants to have the experience. Media such as podcasts, radio programmes and video channels allow us to get in contact with the big offer that we can find in the marketplace.
At the same time, we will include a lecture on the connections between cinema and board games. Lecturers will tell us the way board games put narratives, communication tools and gamification together.
Very soon we will let you know the dates and place where these new activities will be held, as well as the list of games that will be present in the event which will surely delight people who are into horror and board games.
Molins Horror Games, exploring new ways into entertainment.
The different activities aimed at entertainment are quickly changing their rules and features. These days we don't only look for a nice and fun free time, instead we often look for something different. New exciting and original experiences; new interest driving proposals that satisfy our expectations with eclectic ideas that amuse us in a multiple side fashion. This simple and and trendy rule is the starting point for the Molins de Rei Horror Film Festival to organise the Molins Horror Games event.
Board games have exponentially evolved to the point that the offer of games is as wide as existing personal motivations. No overstatement! There are games for everyone: children, teenagers and adults. Some of these games are immersive and the players can imagine themselves in an infinite number of roles; one can become a country-person, police-person, private eye, detective, alien or even a literary character. They also cover a wide range of topics such as adventure, science fiction, transport, food, and, of course, mystery an horror.
Being up to date is not easy with the great offer that every month appears worldwide in the market place. Many of the publishers in Spain introduce new issues from all over the world. That is the reason why one must take the chance of checking specialised blogs or postcasts. Moreover, crowdfunding platforms such as Verkami or Kickstarter are great information sources too.
In present days, the board game industry is developing fast. For the last years, the publishing offer has become bigger all over the Iberian peninsula. Moreover, publishers issue new games very often either in their own production or import. One can hardly be up to date in this field because of the great number of new issues.
Do not forget that fiction is very popular in some countries because of their existing comic tradition. France and Germany are reference countries in the board game world. Both of them have internationally well known festivals: Cannes and Essen are the places where they hold events in connection with board games and very relevant awards are given.