MUCHAS GRACIAS SEÑOR LOBO BOOK GIVE AWAY!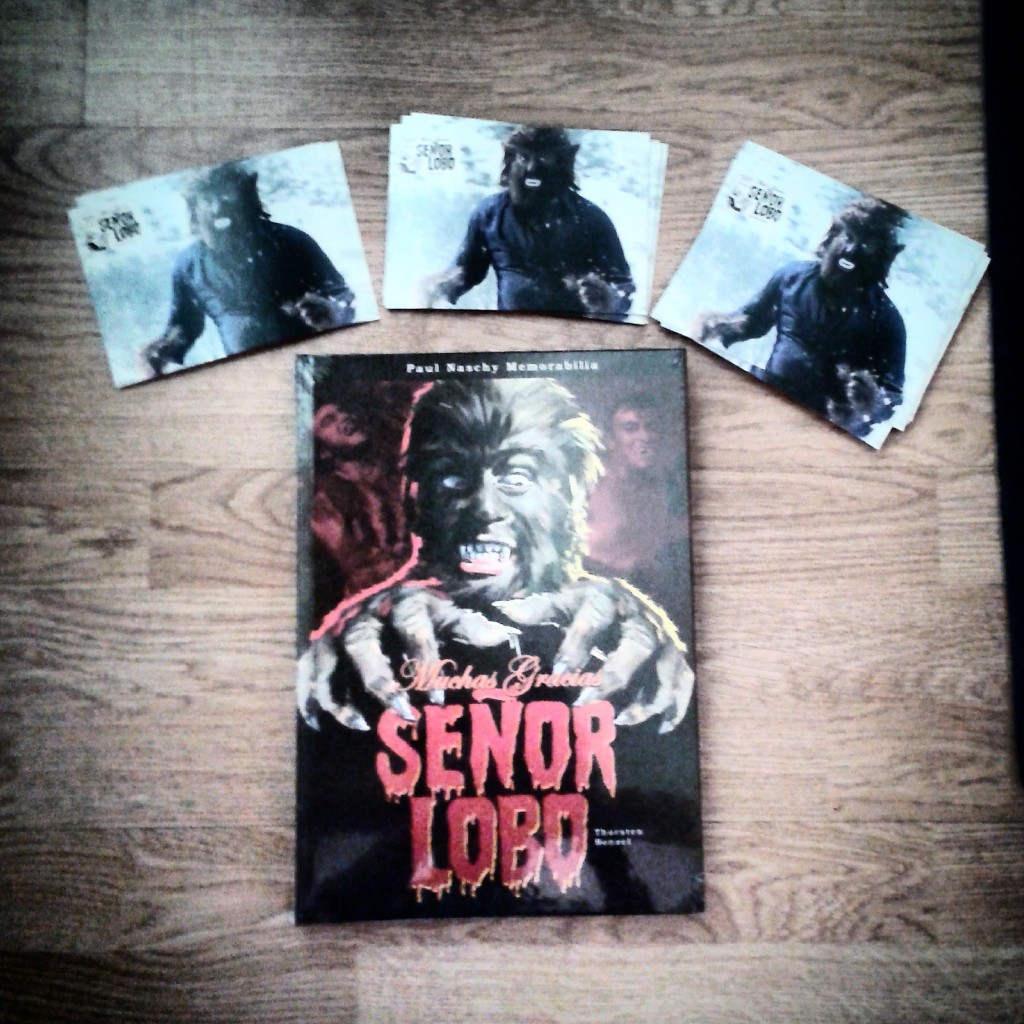 SPANISHFEAR.COM is celebrating Paul Naschy's birthday in September and in order to make the celebration of this Spanish Horror master even bigger, thanks to Creepy Images, we are giving away one book of MUCHAS GRACIAS SEÑOR LOBO. 
If you want to enter in the contest the only thing you have to do is to be part of our tribute. And…How can you be part of the tribute? Easy!
Send us whatever you want to pay tribute to Paul Naschy. It could be a paragraph, an article, an mp3, a video, a picture…. talking about him, his movies, his characters….. whatever  Naschy related. The only requirement is to be written, spoken… in English, as this is the language of our site and podcast.
DEADLINE: SEPTEMBER 30
E-mail: horrorrisesfromspain@gmail.com
Everybody entering will have an exclusive Paul Naschy postcard -see the picture above-also donated by Creepy Images.
NOTE ABOUT THE SHIPPING: The winner of the book may be asked to pay half shipping. This depends on the country it will be sent to and the post office rates.
MUCHAS GRACIAS SEÑOR LOBO deals with the advertising material from the movie of one of the true icons of (European) horror movies: Paul Naschy and contains the largest collection of posters, lobby cards and other promotional items from his movies ever published.
MUCHAS GRACIAS SEÑOR LOBO focuses on Paul Naschy's horror movies of the late 1960s until the 1980s. 30 movies of this period will be featured in form of seperated chapters in the main part of the book while advertising material from his non-horror-movies and his newer films will be compiled in an additional chapter.
Besides high quality reproduction of movie posters, lobby cards and other memorabilia items, the book contains details insight into the distribution history of the movies and we are sure that some facts will even surprise the most dedicated fans of the Spanish Lon Chaney.
Important facts:
Limited hardcover edition
approx. 392 pages, completely in color, measuring 21 x 29,7 cm
(approx. 8.3 x 11.7 inches)
more than 1.200 pictures, including more than 170 movie posters, almost 750 lobby cards, over 100 press stills, a large part of which have never been published yet, more than 100 reproductions of admats, rare sales material that was only handed out to distribution companies and much more from more than 20 different countries.
Introduction by Paul Naschy's son
Sergio Molina
Complete Text in German and English
Besides the countless images the book also contains detailed information about distribution history of the movies
It took more than 18 years to put together the collection that serves as a basis for this book