PAUL NASCHY OFFICIAL ART SHOP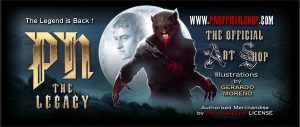 It has just been said: Paul Naschy has a new official Art Shop here http://www.pnofficialshop.com/ .
The illustrated articles in the store are focused on the filmography and characters of PAUL NASCHY. The range of articles is very wide. There is an international store, and an American and a Spain one. All the articles can be cataloged in the following sections – MEN'S APPAREL -WOMEN'S APPAREL, LIFESTYLE, HOME DECOR, WALL ART. The art is divided into three sections – logos / vectors -illustrations – movie posters. All art and illustrations have been made by Gerardo Moreno.