Sex, Sadism, Spain, and Cinema: The Spanish Horror Film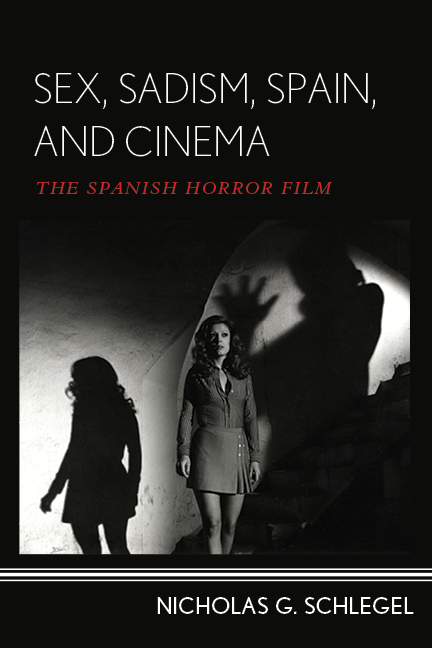 Sex, Sadism, Spain, and Cinema: The Spanish Horror Film, is in production at Scarecrow Press. and it is written by Nicholas Schlegel.
It explores how a group of films produced, distributed and exhibited under the crumbling dictatorship of Francisco Franco's Spain can potentially lead us to a better understanding of the political, social and cultural conditions during this contentious period in Spain's long history.  Between the years of 1968 and 1977 Spain experienced a boom in horror movie production that rivaled other sectors of production and yielded staggering statistics.  This book canonizes these films in relation to their historical genesis, aesthetic characteristics and their social reception.
The book is informed and enhanced by the author's personal experiences. Having had the benefit of consulting and interviewing well-known directors from this movement, important historians and members of the Ministry of Culture in Madrid — his knowledge and understanding of these events was vastly broadened and enriched. In addition to the book's project of cultural history, Sex, Sadism, Spain, and Cinema: The Spanish Horror Film includes Essays on the following 20 films: El Conde Drácula, La Noche del Terror Ciego, La Noche de Walpurgis, Pánico en el Transiberiano, No Profanar el Sueno de los Muertos, La Marca del Hombre Lobo, La Residencia, El Jorobado del Morgue, Una Vela Para El Diablo, Quien Puede a Matar un Nino?, Las Vampiras/Vampyros Lesbos, Dr. Jekyll y el Hombre Lobo,  La Novia Ensangrentada, La Mansión de la Niebla,  Los Ojos Azules de la Muneca Rota, La Campana del Infierno, El Espanto Surge de la Tumba, Las Garras de Lorelei, Último Deseo and El Huerto del Francés.