13 SPANISH "GIALLI"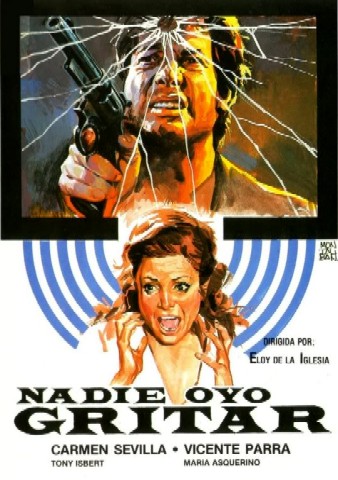 It is a truth universally acknowledge that giallo is an Italian gender, but also, we all know that there were and there are a lot of movies that fully or partially follow its rules. Today I wanted to share with you some Spanish flicks that were or could have been considered gialli alla spagnola. 
1. NADIE OYÓ GRITAR (NO ONE HEARD THE SCREAM) 1973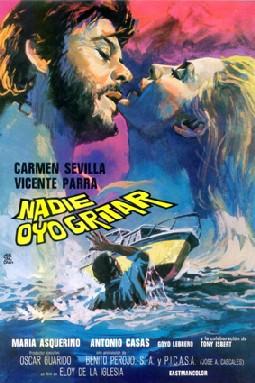 Directed by Eloy de la Iglesia.  The film stars two of the director's favorite performers: Carmen Sevilla (from de la Iglesia's The Glass Ceiling) and Vicente Parra (from de la Iglesia's Cannibal Man). The plot follows a beautiful woman forced to help her neighbor after she sees him disposing the corpse of his wife on an elevator shaft
2. EL TECHO DE CRISTAL (GLASS CEILING) 1971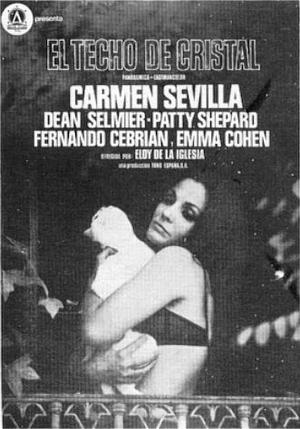 Also directed by Eloy de la Iglesia. The movie tells the story of a woman who hears strange noises coming from the upper flat at night.
3. UNA GOTA DE SANGRE PARA MORIR AMANDO  (CLOCKWORK TERROR) 1973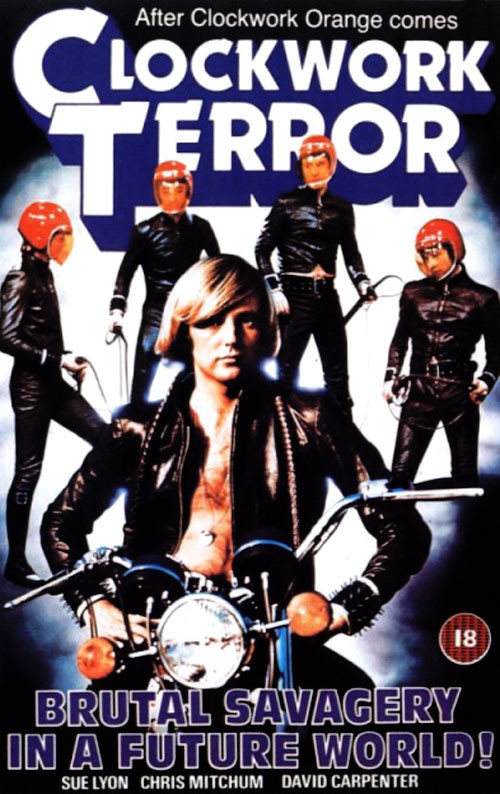 Set in the near future, the plot follows a respectable nurse who seduces young men, take them home to bed, listen to the post-coital beating of their hearts, and then stab them to death with a surgical scalpel.  It was directed by Eloy de la Iglesia too and it is said to take some cues from Kubrick's classic The Clockwork Orange.
5. LA RESIDENCIA (THE HOUSE THAT SCREAMED) 1969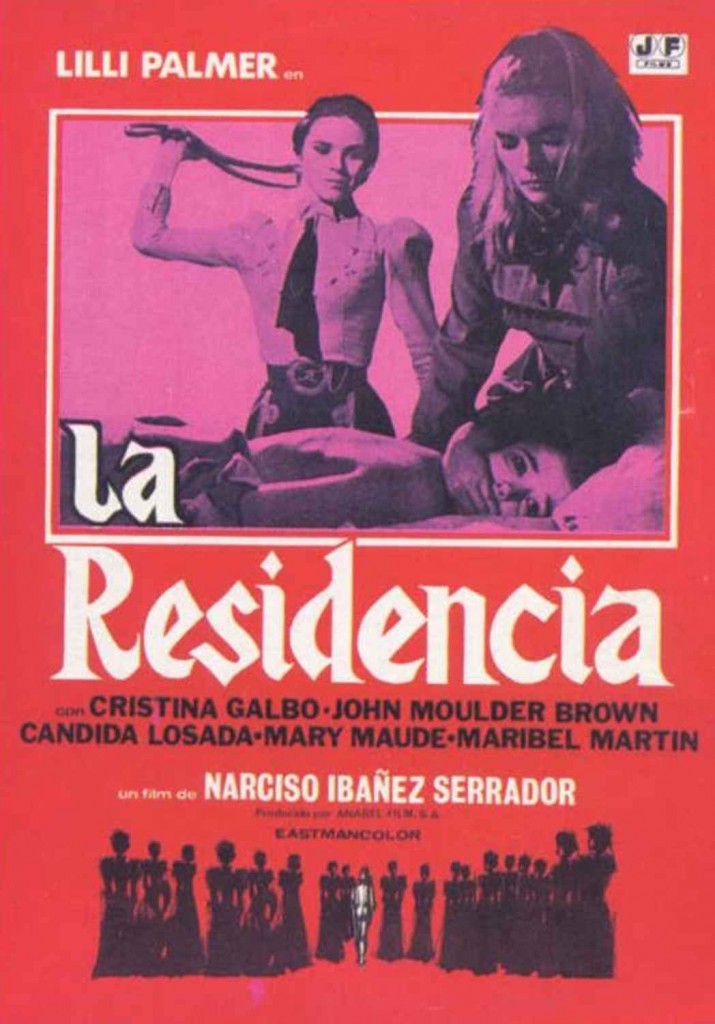 Directed by the master of thirlling Narciso Ibañez Serrador tells the story of a group of young females in a 19th-century French boarding school for troubled girls. After the arrival of a new student some strange murders start to take place.
5. LOS OJOS AZULES DE LA MUÑECA ROTA (BLUE EYES OF THE BROKEN DOLL) 1974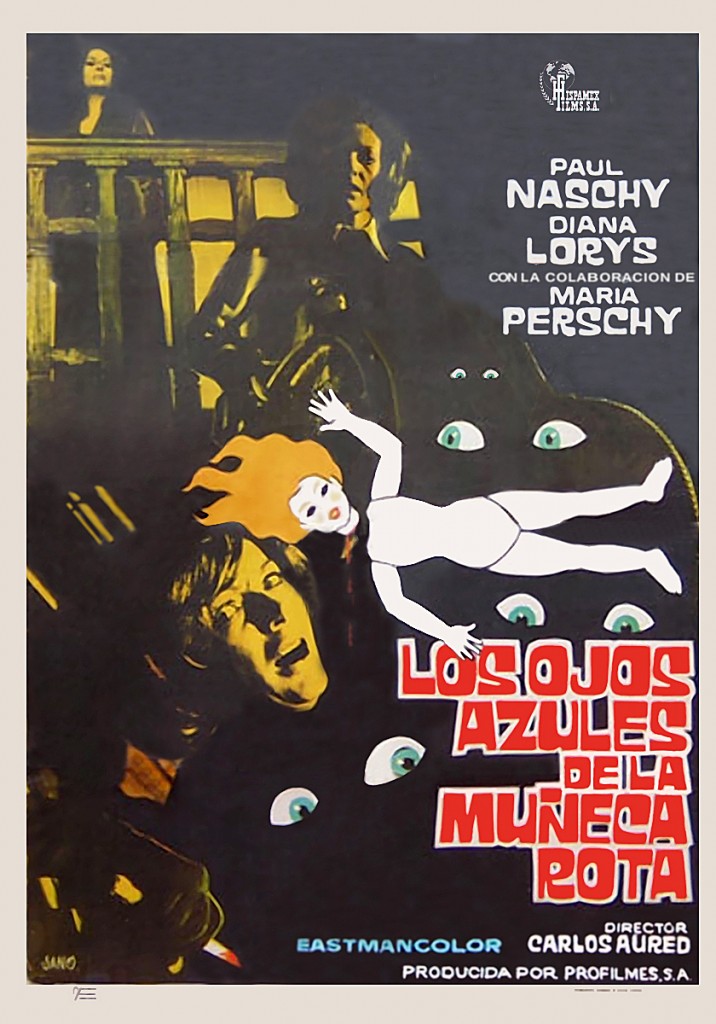 Directed by Carlos Aured and starred by Paul Naschy. We are dealing with an ex-convict hired as the caretaker on an estate owned by three very strange sisters. Soon after his arrival, a serial killer begins slaughtering blonde, blue-eyed women – and leaving their eyeballs in a bowl of water. Will our troubled man be guilty?
6. LA MANSIÓN DE LA NIEBLA (MANIAC MANSION) 1972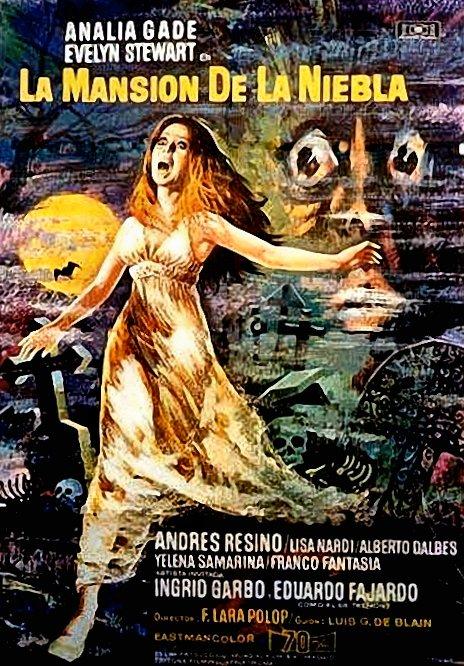 Lara Polop directed this movie in which A couple, lost in thick fog, take refuge in an old mansion next to a cemetery. Strange things start to happen.
7. EL PEZ DE LOS OJOS DE ORO 1974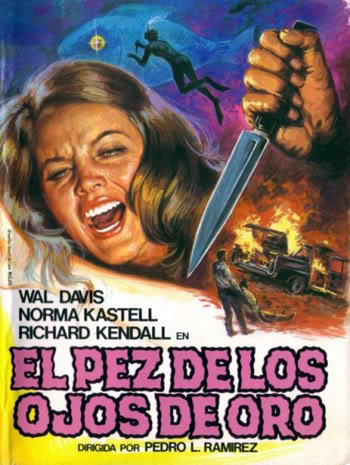 Directed by Pedro Luis Ramírez it is about a coast  town terrorized by a psycho killer.
8.LA ÚLTIMA SEÑORA ANDERSON (THE FOURTH MRS. ANDERSON) 1971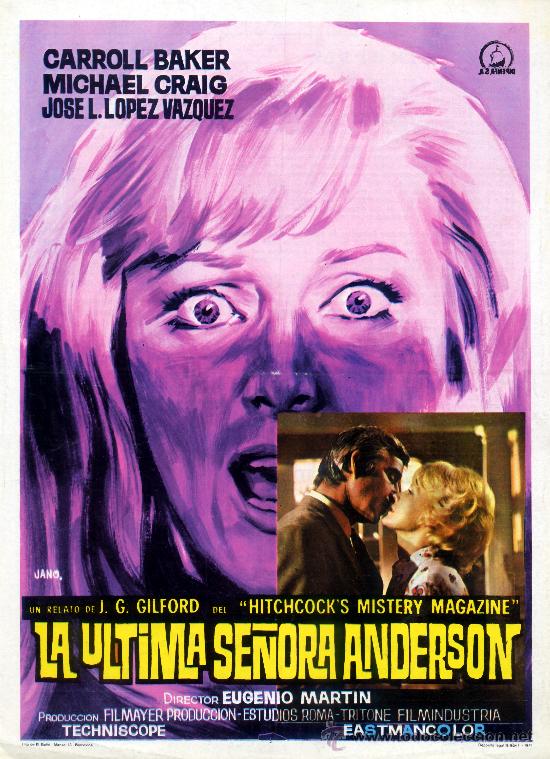 Very rare giallo directed by our all time fav Eugenio Martín. You can read all about it on giallo fever. 
9. LA CORRUPCIÓN DE CHRIS MILLER 1973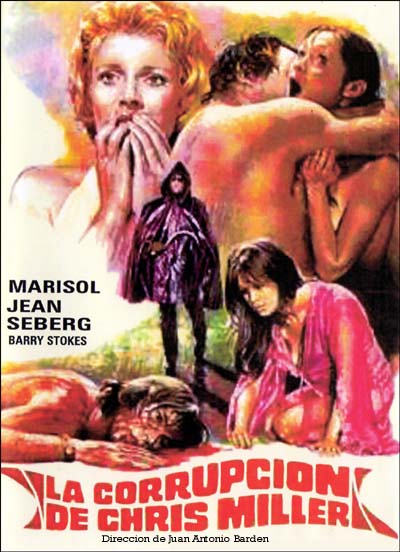 Juan Antonio Bardem introduces this story about a serial killer using a scythe to slash his victims.
10. UN PAR DE ZAPATOS DEL 32 1974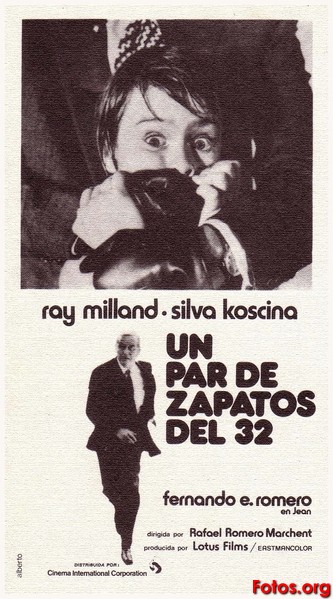 Directed by Rafael Romero Marchent tells the story of a school principal who is surprised by a student while is committing a murder.
11. LA MUERTE RONDA A MÓNICA (DEATH HAUNTS MONICA) 1976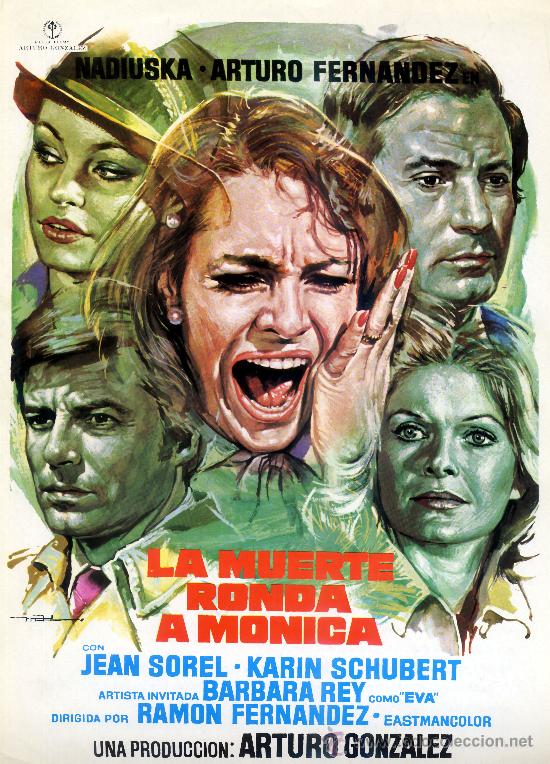 A Ramón Fernández movie about Federico, a business man married to Mónica, a rich woman. One day he is threaten by a man who wants to tell about his hidden past.
12. UNA LIBÉLULA PARA CADA MUERTO (A DRAGONFLY FOR EACH CORPSE) 1974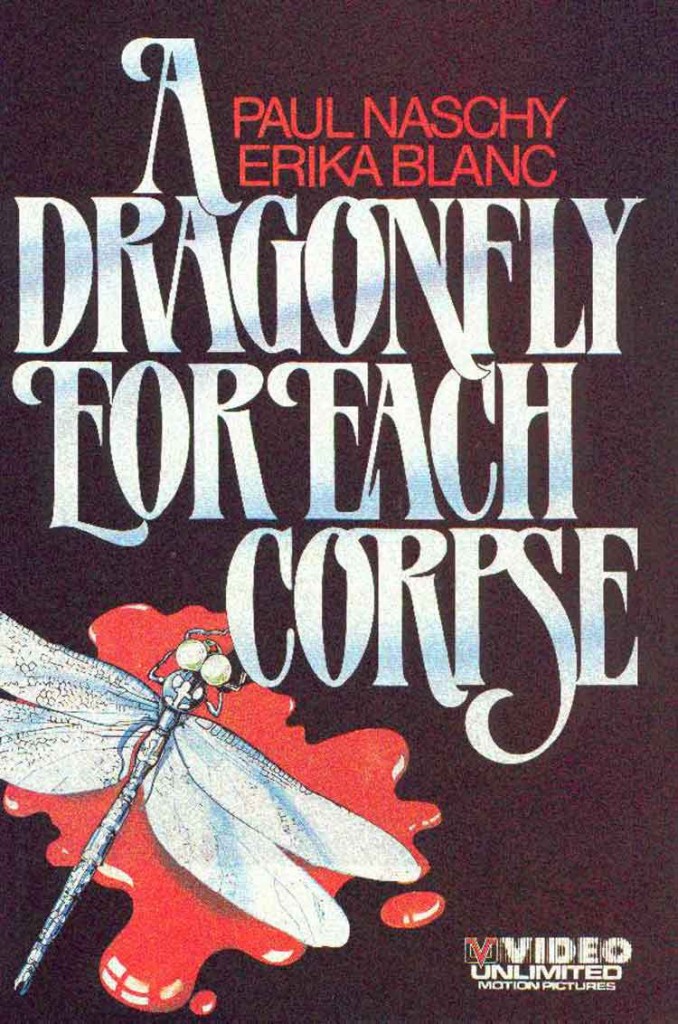 Directed by Leon Klimovsky and written by Paul Naschy. In this movie we are dealing with a killer who is cleaning up the streets of Milan by murdering those considered as deviant. An ornamental dragonfly, soaked in the blood of the victim, is left on each body.
13. EL ASESINO ESTÁ ENTRE LOS TRECE (THE KILLER IS ONE oF THIRTEEN) 1976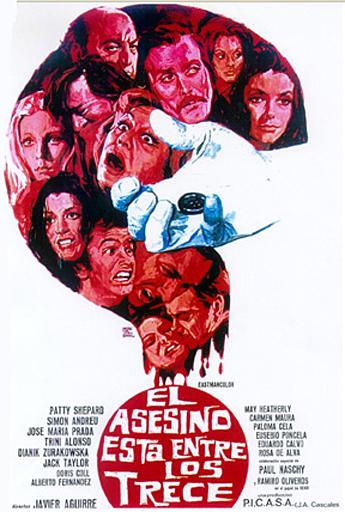 A Javier Aguirre classic in which a widow invites a number of guests to stay at her mansion. She reveals that she knows that one of the group killed her husband. Soon they too are being murdered one by one.
Do you agree with this list? WHich movie wouldn't you have included? Which one do you miss? Please leave us a comment here and enter in our CONTEST  to win an issue of CREEPY IMAGES!! 
 __________________________________________________________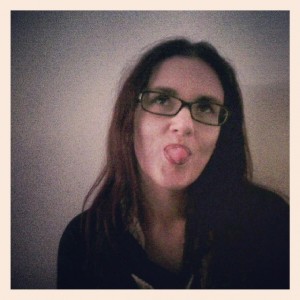 Elena Anele is the woman in charge of SPANISHFEAR.COM, Horror Rises from Spain  and Un Fan de Paul Naschy . A literature and cinema researcher, finishing her postgraduate studies with a thesis about the mystic filmmaker José Val del Omar. She has published in different media and books as Fangoria or Hidden Horror. She has also been in charge of several translations including Javier Trujillo's complete works, La Mano Film Fest, The Man who Saw Frankenstein Cry and many more.