Spanish DVD Release CLAWING! A journey through the Spanish Horror
Spanish DVD release of CLAWING! A journey through the Spanish Horror.
You can now  get it  on Amazon.
Available from July 4.
It is not an English friendly edition. Subtitles are for the parts spoken in English.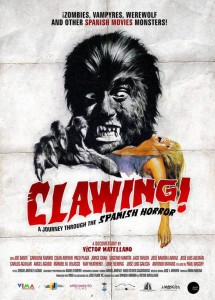 Documentary about Spanish Horror directed by Víctor Matellano. With: Joe Dante, Caroline Munro, Colin Arthur, Paco Plaza, Jorge Grau, Eugenio Martín, José R. Larraz, Jack Taylor, Lone Fleming, Carlos Aguilar, Angel Agudo, Manuel M. Velasco, May Heatherly, José Luis Alemán, José Luis Galicia, Antonio Mayans, Voz/voice Paul Naschy.
All the updates about this movie here: https://twitter.com/ZarpazosElDocu
You can watch the teaser trailer here: https://www.youtube.com/watch?v=S_QfN7Im3Cc#t=20
Víctor Matellano's  documentary: Clawing! A Journey through the Spanish Horror (Zarpazos! Un viaje por el Spanish Horror) has just arrived to the international market at  Berlin International Film Festival and soon to Cannes. Meanwhile in Spain it is expected to be shown in different festivals in  March.  José Frade (Apocalypse Domani) is the associated producer of this documentary based on the book Spanish Horror, written by Víctor Matellano which includes a prologue by Christopher Lee.
Clawing reviews Spanish Horror cinema from  the 60s, 70s, 80s with the help of international stars such as Joe Dante (Gremlins, The Howling), Caroline Munro (Maniac, Dr. Phibes) and Colin Arthur (2001, Alien) together with Spanish directors such  as  Paco Plaza (REC), Joseph Larraz (Vampyres), Jorge Grau (The Living Dead at the Manchester Morgue) and Eugenio Martin (Horror Express).
In the documentary there are also Spanish Horror figures as: Jack Taylor (The Ninth Gate), Lone Fleming (Tombs of the Blind Dead), May Heatherly (Pieces), Antonio Mayans (Nighmare City) together with Paul Naschy (Frankenstein's Bloody Terror) and  Jess Franco (Count Dracula), who tell anecdotes and stories from those horror movies: censorship, sex, blood, violence….
Together with the interviews, the documentary contains a large amount of footage, 3D animations and scenes The House that Screamed, Dr. Jeckyll vs. the Werewolf, Edge of the Axe, Panic Beats and  Cannibal Apocalypse which make the documentary a must see.