THE BIRTHDAY SPECIAL ON NEW FANGO!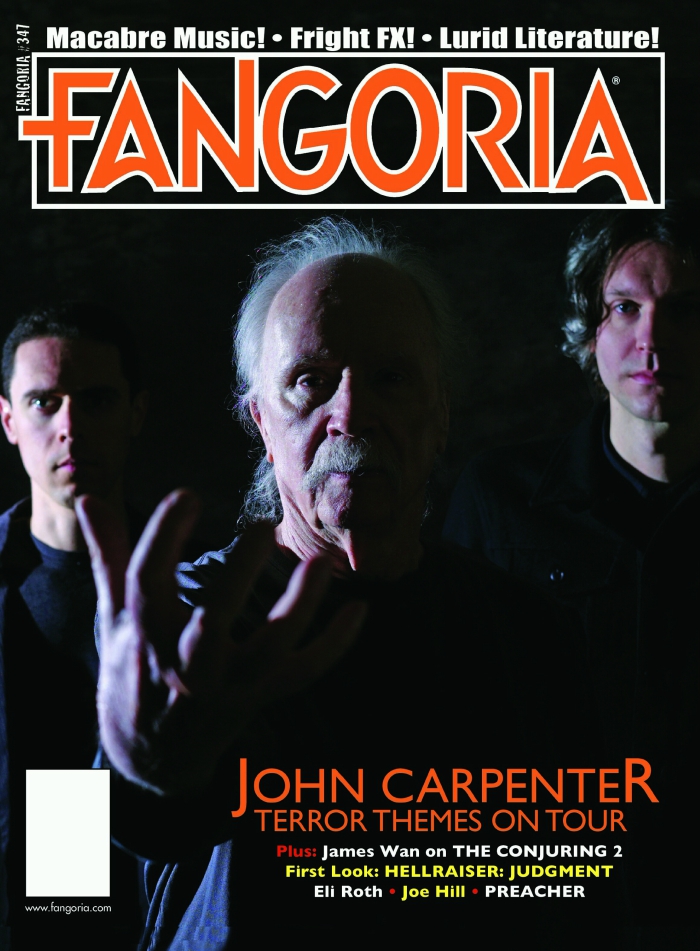 This new issue of Fangoria magazine contains an article about the Eugenio Mira's The Birthday. apart from that you can find:
GUTS
INTERVIEW: JOHN CARPENTER From filmmaker to rock star, John Carpenter kicks off a new chapter in his 40-plus-year career with his first-ever world tour.
EXCLUSIVE INTERVIEW: WILLIAM MALONE Underrated but not forgotten, William Malone has gone from "Halloween" mask-maker to Master of Horror.
INTERVIEW: JOE HILL Joe Hill burns down expectations and genre limitations with his apocalyptic new novel "The Fireman."
INTERVIEW: JAMES WAN Returning to the genre that made him a horror icon, James Wan re-opens the case files of The Warrens for "The Conjuring 2."
FEATURE: "PREACHER" AMC's small screen adaptation looks to spread the gospel of Garth Ennis' shocking comic property.
INTERVIEW: ELI ROTH This contemporary horror helmer isn't fooling around when it comes to his gruesome production "Clown."
EXCLUSIVE FEATURE: "THE BIRTHDAY" FANGORIA exhumes Eugenio Mira's brilliant yet sadly unreleased directorial debut, "The Birthday."
EXCLUSIVE INTERVIEW: GARY J. TUNNICLIFFE This master of the practical closes the book on his prolific yet petrifying FX career.
EXCLUSIVE FIRST LOOK: "HELLRAISER: JUDGMENT" FANGORIA has the first official look at "Hellraiser: Judgment," including the new Pinhead!
FEATURE: CRYPT TV Practical FX and marketplace savvy help make Crypt TV a beast of its own.
PREVIEW: "AGE OF THE LIVING DEAD" Get a glimpse of the new vampire series from the producer of "The Lost Boys: The Thirst."
ON SET: "BLACKBURN" Blood will boil with this gruesome new horror offering.
INTERVIEW: RICH TOMMASO The surreal comic book creator gets experimental with "She-Wolf."
FX PREVIEW: "KILLER WAVES" Hang ten with Acid Bath Productions' latest gorefest.
FEATURE: "CAT IN THE BRAIN" Grindhouse Releasing brings Fulci's meta-slasher to U.S. cinemas for the first time.
INTERVIEW: THE HORROR SHOW This podcast is not afraid to draw blood from your favorite (and not-so-favorite) horror films.
FEATURE: JASON WOLINER This comedy filmmaker brings existential horror to Adult Swim with "Brett Gelman's Dinner in America" special.
GRAVY
EXORDIUM New Blood, Old Veins
MONSTER INVASION Features on "Last Girl Standing" and "Dead Body"
CHOPPING LIST Horror Hitting Shelves in June 2016
BLOOD DROPS This new horror music column details the synth-driven "Form Hell"
KILL SCREEN Our new horror gaming column looks back at the controversial "Manhunt"
CYCLOPS EYE FANGORIA's two-cents on the latest home video viscera
CULT CORNER Another new section debuts with Albert Pyun talking "Radioactive Dreams"