CREEPY*IMAGES #16 Jorge Grau's THE LIVING DEAD AT THE MANCHESTER MORGUE!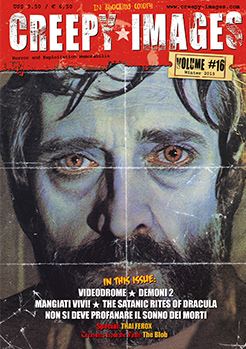 Now available another amazing issue of  CREEPING IMAGES.
The first 333 copies will include five free stickers for your SUPER SPOOKY STICKER SPECTACULAR album!
68 pages in full color high quality printing
(14,8 x 21 cm / 5.5 x 8.27 Inch) featuring
David Cronenberg's
VIDEODROME
French advertising material
Jorge Grau's
NON SI DEVE PROFANARE IL SONNO DEI / LET SLEEPING CORPSES LIE
Complete German 1st-release material
Lamberto Bava's
DEMONI 2 / DEMONS 2
Complete Italian material
Umberto Lenzi's
MANGIATI VIVI! / EATEN ALIVE
Spanish lobby cards and poster
Alan Gibson's
THE SATANIC RITES OF DRACULA
Japanese advertising material
MONSTERS ON MY BOOKSHELF
Special:THAI FEROX
5-page special by Manu Zirnheld about Thai movie posters
Treasures from the Vault: THE BLOB
Mike Siegel is dealing with the super-rare German first-release materials. On 9 pages!
PURCHASING: http://www.creepy-images.com/product_info.php?info=p145_creepy-images–16.html&XTCsid=1d8fbe2819173c883e96ed57329059db