LA MANO FEST interviews Zack Parker, director of Proxy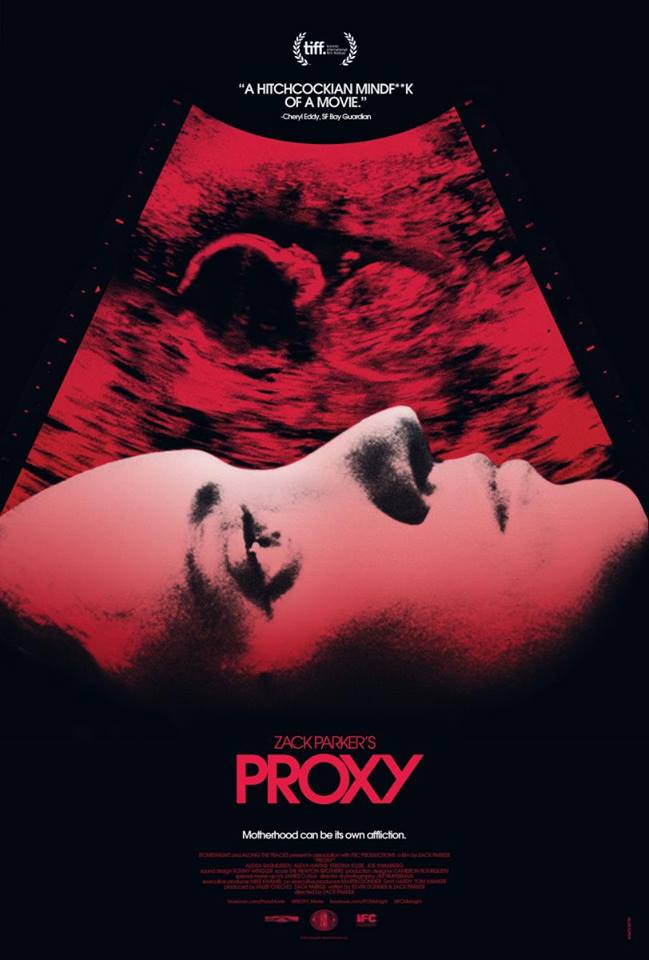 By La Mano Fest (*)
First of all, La Mano Film Festival organization wants to say congratulations on your feature. It is one of the boldest and most surprising film that we have watched.
Proxy is a film with a very shocking and complicated plot. How was the idea of this project born?
Zack: A combination of a few things. My way of coming up with a film can be a bit backwards. I more think about the kind of film I want to make, or the way I want to tell a story before the story itself. I'm very interested in experimenting with storytelling structure right now, along with audience deception and misdirection. Also, I'm always trying to tackle a subject matter that I feel hasn't really been fully explored in cinema before. My writing partner, Kevin Donner, and I got the idea in our heads to do a story about two women who are complete opposites, it terms of looks and the worlds they live in, but both suffer from slightly different versions of the same mental condition. That was the start.
At the beginning of the movie we can watch a really brutal scene in which a pregnant woman is assaulted. Have you had many negative reactions against this scene?
Zack: Some, but not terrible. I have been more surprised by the amount of people that have been truly affected by that sequence. The idea was certainly to hit the audience hard early on, I tend to be filmmaker that likes to take my time building a story and character. That scene was constructed to give the audience a feeling early on that anything was possible in this film. Therefore, it creates an early innate sense of suspense, earning me the time I want to start building the story.
The movie has several layers of interpretation. The spectators could have the sense of a harshly criticism of American society, that is alienated and aimless. Do you actually see American society this way? Or is the movie just the description of the circumstances of some marginal characters.
Zack: There are certainly a few comments on the celebrity-obsessed culture that dominates the States, but this is also true of many other countries. That said, I also tend to leave a bit of ambiguity in my films, a few holes to keep audiences guessing. I believe you should let them do some of the thinking for themselves, making them feel more apart of the story. It gets them invested in it, and also says you are not looking down on them. That you trust them and don't feel you have to force-feed information.
Do you have any particular reference in the way you present and handle the violence that appears in this film?
Zack: Like everything else; it's just a matter of taste and instinct. If I've learned anything, it's that you can't please everyone. Only thing you can do is trust your instincts and make the film that you would want to see.
Proxy is your second movie. What difficulties did you have to get things running?
Zack: PROXY is actually my fourth. Just not to many people have heard of the first two. This one was actually one of the easiest and fastest to get off the ground, primarily because of the progressive successful and exposure of my previous films. Kevin and I began writing it in late 2011 and we were shooting by summer 2012. The film then premiered at Toronto International Film Festival in 2013, which is where we sold the film. It was a much faster process than I'd experienced before on a film.
We have the impression that the independent film genre in USA has a little golden age. There are films like yours, also Blue Ruin, Cheap Thrills… There are many talented directors, like your friend Adam Wingard. Do you usually watch the cinema that is made in your surroundings?
Could you talk a little, if it is possible, about your future projects?
Zack: It's defiantly an exciting time, and I'm honored to say I know all those guys and have watched them progress over the years. Some of my favorite new films are being made by people I know or have met at festivals. I was one of those kids that grew up in a video store, going almost everyday to watch as much as I could. It's an incredible feeling now to go to those stores and see my friend's films on the shelves now, sometimes even right next to one of my own. Pretty surreal.
As for the next project, I'm finishing up a new script now. If things go according to plan, we'll be shooting in Chicago in the spring of next year.
Zack, we are very grateful for giving us the opportunity to have an interview with you. We are eagerly awaiting your next movie.
​
_______________________________________________
La Mano Fest is a Spaish film festival from Alcobendas (Madrid). This year edition will take place October 25- 31.
More information:
https://twitter.com/LaManoFest