LATEST NEWS ABOUT SITGES 2015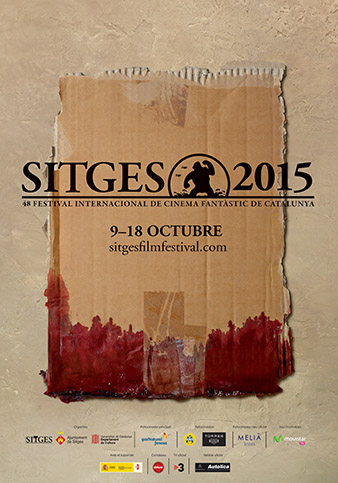 Sitges Pitchbox will be giving genre feature film projects a chance to be pitched to producers on 16 October
A few days ago, the 48th Sitges – International Fantastic Film Festival of Catalonia presented some of the films that will be a part of its lineup. But with the Festival starting barely two months from now, the new developments don't stop there. Another outstanding feature this year is its collaboration with the online platform Filmarket Hub, which will be in charge of organizing a special edition of their pitching event, Pitchbox, during the Festival.
Sitges Pitchbox will be offering screenwriters, directors and producers a chance make a sales pitch of their horror, science fiction of fantastic projects to production and distribution companies attending the Festival, plus others that will be invited especially for the occasion.
The pitching will take place on Friday, 16 October, in the Miramar Room, and 7 different projects will be selected out of all of the ones presented. Those interested in registering their project can do so through a special call that will be opening up on Monday 10 August and which will be available until 15 September. Registration is free and must be done through Filmarket Hub.
In addition, and as a special gift, the projects will remain on Filmbox, Filmarket Hub's online screenplay and coproduction marketplace, for free until 31 October for all participating production companies to see.
But the collaboration between Sitges 2015 and Filmarket Hub isn't just limited to this pitching event. Those people with professional credentials for the Festival, will have a chance to connect with all the other pass holders through the Filmarket Hub social network. They will be able to find out who is attending and which days to be able to organize work meetings.
The online platform has also highlighted the importance of this agreement: "Sitges is one of the most important festivals in Spain and in Europe. It is undoubtedly the perfect setting for helping screenwriters and directors to be able to show off their talent and their genre projects to production companies and distribution companies".
Filmarket Hub is an online platform that focuses on making film projects come to life through a social network of professionals and an online marketplace for screenplays and coproduction for feature films, documentaries, and TV series in the development stage. It establishes a global network that connects potential investors from different sectors with producers, creators and other industry professionals. This project is born with the clear goal of playing an important role in the international marketplace. Filmarket Hub allows creatives and producers to expand their network of contacts in the audiovisual sector, promote their careers quickly and easily and make their projects a reality.
Nivel 7, a production full of tension, emotion, humor and even a crime, is a part of Cinergía, a Gas Natural Fenosa initiative to raise public awareness about energy efficiency
Gas Natural Fenosa will be present once again this year at the Sitges – International Fantastic Film Festival of Catalonia, taking place from 9 to 18 October. As a part of this film competition, the company will be premiering the short film Nivel 7, directed by actor and movie director Santiago Segura, and produced by the energy company in collaboration with El Terrat.
In addition, Gas Natural Fenosa signed a new agreement with the Sitges – International Fantastic Film Festival of Catalonia making it the Festival's official sponsor for the forth year in a row. Sitges is the number one fantastic film festival in the world and one of the main film events in our country.
Santiago Segura's short is a part of the second edition of Cinergía, a Gas Natural Fenosa initiative to bring energy efficiency closer to the general public through the Seventh Art and promote talent in Spain's film industry.
The story begins with a surprise visit from the president of residents' association, obsessed with responsible consumption, to a neighbor who, behind the facade of a discreet lady, hides a cruel squanderer of watts. Anabel Alonso, Enrique Villén and Joaquín Reyes are the actors in charge of bringing these characters to life in this production full of tension, emotion, racy jokes, zany dialogues and even a crime.
Along with Santiago Segura, the other short films for this year's Cinergía are directed by Isabel Coixet, Paco León, and the young winner of the screenplay competition, Josep Pujol Bonet. The shorts all star prestigious, well-known actors like Carmen Maura, Secun de la Rosa, Anabel Alonso or Silvia Abril, among others. These productions, which will premiere in Spain's top film festivals, will also be reaching both movie theaters and the homes of thousands of Spaniards. Actually, last year's Cinergía had 8 million views on TV and Internet.