REVIEW: NASCHY'S INQUISITION BR ON MONDO MACABRO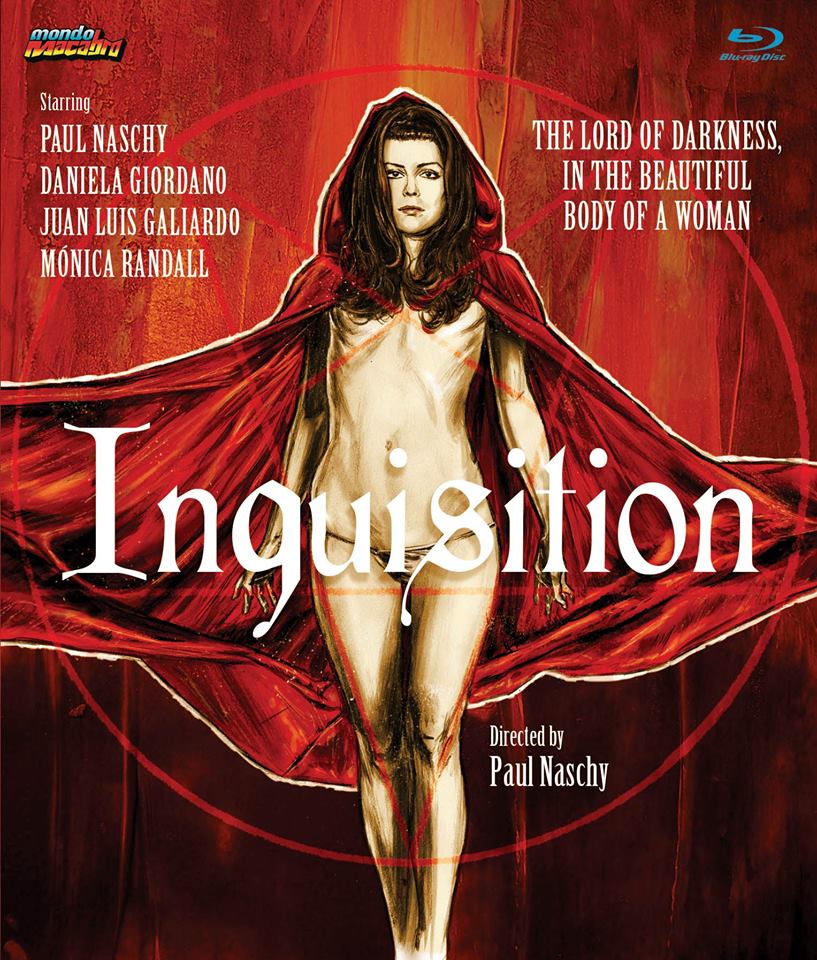 (C) Robert Monell, 2017
INQUISTION (1976)
MONDO MACABRO Blu-ray, reviewed by Robert Monell
In the late 16th Century prolific witch hunter Bernard de Fossey (Paul Naschy) rides with two judicial associates toward a small French village where he plans, using The Malleus Maleficarum as a guide, to identify, prosecute and burn at the stake as many witches as possible. The only problem is that his conclusions that witches are indeed there, as well as an underlying cause of the Plague, seem based on wishful thinking, superstition, fear and perhaps political ambition. Naschy opens his first feature film as director with macabre images of Plague victims hanging and being buried in mass graves, as did Ken Russell in his own 1971 witch burning drama, THE DEVILS, a film which seems to weigh heavily on INQUISTION. A secret affair between Naschy's self righteous judge and the local mayor's daughter, Catherine (Daniela Giordano), develops in the wake of the murder of her lover (Juan Galiardo). In the meantime, a local peeping tom/pervert (Antonio Iranzo) sets up several young women to the judged on witchcraft charges, His motives are nakedly sexual and he resorts to blackmail, rape and murder to satisfy his lust for power over the women, whom he can't obtain.
The character of De Fossey is one of Naschy's more complex roles, he's a true believer in what he is doing but at the same time tortured by self doubt and unholy lust for Catherine. He is a self condemned sinner in his own mind and will be condemned in reality by Catherine herself at the very end. About halfway through Naschy presents a series of scenes, the murder of Catherine's lover, her participation in a colorful satanic extravaganza where she is marked by a demon and given to Satan (played by Naschy himself), which are obviously Catherine's dreams and fantasies driven by grief and lust for revenge. She gives herself to Satan in order to seduce and destroy De Fossey, whom she believes arranged her lover's death. But did he? And did she really attend that Sabbat? Or is it all in her confused mind? The questions are left open and that is perhaps the strength and weakness of the film. De Fossey and Catherine destroy themselves, in a sense, by giving into their human weakness, and the Inquisition is there to make that they burn in public for those weaknesses. The film lacks the powerful moral certitude of THE DEVILS, but replaces it with a fascinating moral ambiguity, which is always welcome. As a critique of the methods and morals of the Church, in relation to superstition, ignorance, poverty and politics, it allows one to draw some interesting conclusions about the psychology of individuals and the time in which they lived. Naschy's screenplay was the result of the kind of preparation which paid off.
The research, which Naschy discusses in his introduction to the film included in this presentation, included an arrangement with a Spanish museum, consultation with historical scholars and obtaining an actual copy of the Malleus Malificarum. The torture devices, over which the bodies of naked women are stretched in agony, were authentic, and Naschy focuses on the period detail as much as the naked, bleeding flesh. This was, after a all, a commercial film, one which ultimately grossed more than JAWS (1975) in Spain. Sex and sadism aside, INQUISITION is beautifully directed and features aesthetically pleasing framing, lighting, period costuming and furniture, all created by hand for the film. Naschy's key collaborators were set designer Gumersindro Andres, cinematographer's Miguel Mila and Julio Burgos, all of whom do impressive work on the look and feel of the film. Based on a true story about an actual French Inquisitor who had a love affair with an accused witch, ending at the stake for both of them, Naschy turned out a stylish, personal take on the entire witch-burning sub genre. Some of the library cues in the score can be heard in other Spanish horror product of the era (THE STRANGE LOVES OF THE VAMPIRE, etc).
The thought and energy Naschy put into his directorial debut is apparent in every frame and also in his unusually subdued performance, which captures both the egotism and sexual vulnerability of the character. Daniela Giordano, the only Italian in the company, is equally effective as the tormented, twisted Catherine. The scene where she publicly turns on the judge is her, and the film's, best scene. Naschy also examined the themes of Medieval corruption, sex, violence and satanism in HORROR RISES FROM THE TOMB (1972), Leon Klimovsky's THE DEVIL'S POSSESSED (1974) and the superior EL CAMINANTE (1979), the latter an upcoming MONDO MACABRO Blu-ray release.
The Mondo Macabro Blu-ray, which was also released as a red-box LE, also includes an introduction by Paul Naschy, in which he discusses the film's production, an interview with Ms. Giordano, who talks about her ascension from Miss Italy to stardom in a number of Italian genre projects in the 1960s and 70s. She names INQUISTION as her favorite role and talks about how she regretted the fact that it wasn't imported for Italian theatrical release at the time. There's also a lively commentary by Naschycasters Rod Barnett & Troy Guinn, who discuss Naschy's build up for this film, the character's motives, the look of the film and the excellence of Ms. Giordano's performance, among other related subjects. BLOOD AND SAND, a documentary on Spanish horror and MM previews are also included.
VIDEO; 1.85:1/16:9 HD transfer from film negative-BD25 1080p- quality ranges from very good, with rich colors, sharp focus, crisp detail and enhanced definition to some noticeably rough patches here and there which in no way detract from one's enjoyment of the film. The carefully designed look of the film, period details and black levels are all apparent throughout and any print damage is minor. No noticeable DNR issues.
AUDIO: Crisp, clear Spanish/English audio options; DD; 24fps Mono
RECOMMENDED HD release of one of Paul Naschy's more ambitious and personal projects. A detailed historical drama with levels of violence, sex and nudity in this uncovered version.
Amazon link: https://www.amazon.com/Inquisition-Blu-ray-Paul-Naschy/dp/B06Y1XSL8H/ref=sr_1_2?ie=UTF8&qid=1496065985&sr=8-2&keywords=inquisition
___________________________________________________________________________
Robert Monell is a filmmaker, writer, critic and blogger. He is the creator and editor of I'M IN A JESS FRANCO STATE OF MIND and CINEMADROME www.cinemadrome.yuku.com. His films include the screenplays for the web series RETURN OF THE BLOODSUCKING NAZI ZOMBIES, the short feature ZOMBIE 2024